2023 WUCWO GENERAL ASSEMBLY
INFORMATION FOR NORTH AMERICAN ATTENDEES FOR THE PAPAL AUDIENCE AND THE WUCWO GENERAL ASSEMBLY 2023
1. The Holy Father has agreed to meet with the women of WUCWO, their spouses, and their minor chidren on May 13, 2023 at the Paul VI Hall in the Vatican. Dress for this audience should be appropriate; No shorts or sleeveless tops or dresses. Headcovering is not required. 2.On the afternoon of May 13, 2023 at 5PM, Cardinal Farrell will preside at a Mass for WUCWO in Saint Peter Basilica 3. It is not necessary to attend the WUCWO General Assembly to attend the papal audience or the Mass on May 13, 2023 and there is no charge for attending the papal audience or the Mass on May 13, 2023. 4. In order to be able to access the Paul VI Hall the morning of May 13, 2023 it should be noted that the Hall will open around 7:30am, While it is not expected that the Pope will join us until arround 11am -Noon, it is advised to arrive at the Hall early as there will be many in attendance for this WUCWO special papal audience. Absolutely no luggage or large bags will be allowed in the Hall. There is no storage location available there. 5. It is advised that those attending the papal audience make arrangements at their own expense to stay in Rome the night prior to the audience, May 12, 2023. The registration fee for the General Assembly does not cover the cost of staying in Rome for the audience. 6. It is advisted that those attending the papal audience and Mass on May 13, 2023 and who are registered for the WUCWO General Assembly stay over in Rome the night of May 13, 2023. Again, this is at your own expense separate from the Assembly fee and you are responsible to make your own hotel arrangements for Rome. 7. On the morning of May 14, 2023, those attending the WUCWO General Assembly in Assisi will be transported by bus from Rome to Assisi. This transport is included in the registration fee for the General Assembly. 8. The General Assembly registration fee covers your hotel in Assisi, breakfast, lunch, and supper each day of the Assembly, a tour of Assisi, transport to and from Rome for the Assembly and at its conclusion, and meeting costs to include translation to English, French, and Spanish. The 2023 WUCWO General Assembly registration fee is based on your accomodation and is as follows
in US Dollars
: Single Room Full Participation (includes meals): $1100 USD Double Room Full Participation (includes meals): $935 USD each Triple Room Full Participation (includes meals) $780 USD each A non-refundable deposit of $330 USD must be received by December 20, 2022 with the balance due by February 28, 2023. 9. At the conclusion of the WUCWO General Assembly in Assisi, your registration fee includes transportation by bus after Mass and breakfast on May 20, 2023 to the Rome Termini Rail Station. There is an express train from Termini to the airport. However, be advised that the buses will not leave Assisi until around 11am and it is a 4-5 hour ride to Rome. 10. If you cannot book a late evening flight home on May 20, 2023, it is advised that you make arrangements to stay over an additional night in Rome, perhaps in a hotel near the airport with shuttle service to the airport to ensure that you make your flight. This hotel expense is in addition to your General Assembly registration fee and must be made by you. 11. WUCWO will not be making or handling any arrangements other than for registration for the General Assembly. Any hotel reservations for Rome are your own responsibility and at your expense. They are not covered by your General Assembly registration.
HOTELS IN ROME The following are some hotels in Rome that are located near the Vatican and so useful for those attending the papal audience. WUCWO or WUWCWO NA, the VP NA, or the Friends of WUCWO do not have any responsiblity or receive any compensation for these hotels but simply list them to try to aid attendees of the WUCWO audience with the Pope and for those attending the WUCWO General Assembly who wish to stay over in Rome and fly home on May 21 or later. We make no claim as to their rating or suitability but list them because of their proximity to the Vatican or the airport and for some (1+2), because we have used them successfully in the past. The list will be updated as we receive more information. Numbers 3 and 4 are guesthouses run by congregations and so are less expensive than hotels. NEAR THE VATICAN: 1. Saint Peter SIx Rooms & Suites, Via della Conciliazione 15, Rome. www.stpetersix.it 2. Residenza Paolo VI, via Paolo VI, 26, Rome. www.residenzapaolovi.com 3. Istituto Maria Santissima Bambina, Via Paolo VI 21, Rome. + 39 06 69893511 imbspietro@mariabambini.va This is a guesthouse run by Sisters and offers bed and breakfast, private bath, towels and bedding, wheelchair access, wifi, air conditioning, roof terrace, and chapel. 4. Casa Santo Spirito, Borgo Santo Spirito 41, Rome. ssmsanpietro@libero.it Run by Franciscan Sisters it offers bed and breakfast, private bath, towels and bedding, wifi, and has an 11PM curfew. 5. Hotel della Conciliazione, Borgo Pio, 163/166 00193, Roma. www.hoteldellaconciliazione.it +39 06 6875400 NEAR THE AIRPORT: 6. Hilton Garden Inn Rome Airport (free shuttle) Via Vittorio Bragadin 2, Fiumicino, www.hilton.com 7. Mercure Rome Leondardo de Vinci Airport, Via Portuense 2470, Fiumicino, www.mercureleonardodavinciairport.it 8. Hotel Tiber Fiumicino, Via della Torre Clementina 276, Fiumicino, www.hoteltiberfiumicino.it
PLEASE REGISTER FOR PAPAL AUDIENCE
Saturday, May 13th, 2023, in the morning, in the Paul VI audience hall, Vatican. In the afternoon: Thanksgiving Mass, in St. Peter's Basilica presided over by Cardinal Kevin Farrell, Prefect of the Dicastery for Laity, Family and Life.
Each participant must register to participate in the Audience with the Pope on May 13th.
Participants will only have to register online: Please highlight the link below and copy Open your preferred browser and paste the link into your browser search and press Enter
https://wucwo.us16.list-manage.com/track/click?u=8865c9071806d92715fb35ad1&id=f484cc26db&e=2d28ac8d8a
Complete the form and submit Thank you.
FINAL PAYMENT FOR GENERAL ASSEMBLY REGISTRATION: TYPE OF ROOM TOTAL PRICE BALANCE IF PAID $330 DEPOSIT SINGLE $1100 $770 DOUBLE $ 935 EACH PERSON $605 EACH PERSON TRIPLE $ 780 EACH PERSON $450 EACH PERSON Those who wish to pay in US dollars by check,
please make your check out to WUCWO
and send to: Maribeth Stewart Blogoslawski 24 Candee Avenue West Haven, CT 06516 USA Final payments are due by 28 February 2023
OPTIONAL TOURS
Dear Friends,
I'm writing you again with some news of a few optional tours that are being organized for our WUCWO North America Region attendees coming to Rome for the papal audience and/or the WUCWO General Assembly. These tours will be coordinated by Lucy Johnson.
Please let Lucy know if you are interested in any of these tours as soon as possible but no later than 15 March 2023 at lucyhjohnson@msn.com
Thursday, May 11: The first is a trip to Genazzano which is located about 30 minutes from Rome. The highlight will be the original fresco of Our Lady of Good Counsel housed in the church there. The church had been built over a pagan shrine to Venus and by the fifteenth century, the church was in disrepair. According to tradition, in 1467 in the midst of the festivities for the Feast of Saint Mark, the residents of the town suddenly heard beautiful music. A mysterious cloud descended and obscured an unfinished wall of the parish church. Then, as everyone watched, the cloud dissipated and a beautiful fresco appeared, no thicker than a post card and only about 18 inches square, of the Virgin Mary and the Christ Child. This miracle led to increased devotion to Our Lady of Good Counsel. Popes and saints have made a pilgrimage to the church. As time went on, the Augustinian Order contributed to the spread of this devotion internationally. I'm sure you are aware that Our Lady of Good Counsel is the patroness of the National Council of Catholic Women in the USA as well as of the Catholic Women's League of Canada.
COST: If there are enough interested persons, the trip can be made by van. The cost will depend on the number of persons who sign up for this trip. One van can hold 7-8 persons for a total cost of 390 Euro and another option is a minibus that can hold 13-20 for a total cost of 600 Euro. So, the cost will depend on how many wish to take this trip and then the proper sized van will be obtained with the total cost divided by the number of persons.
I've been to Gennazzano to see the fresco and it is a lovely experience.
Friday, May 12: This second day of touring has two options (you must select one or the other): The first is a tour of the Seven Pilgrim Churches of Rome that I have taken with the tour company being considered because the guides are Catholic and provide the proper reverance in addition to the information. This tour is a more than 500 year old pilgrimage started by St Philip Neri that can be done on foot and take all day but the tour company takes you by van and it is about 5 hours. You will visit St. Peter, St. Paul outside the walls, St. John Lateran, and Santa Maria Maggiore which are all papal churches. The other three churches are San Sebastiano (St. Sebastian) with the catacombs on the via Appia Antica, Santa Croce in Gerusalemme (Holy Cross in Jerusalem) and San Lorenzo (Saint Lawrence).
COST: 1-5 people is 600 Euro total (divided among the number on the tour). 6 people or more the cost is 850 Euro divided among the number on the tour. This would be a lovely opportunity to participate in this ancient pilgrimage.
The second possibility that day is a tour to Castel Gandolfo, the summer residence of the popes. Here you would see the beautiful Barberini Gardens and have the opportunity to tour the villas/ museum if they are open. Cost will be dependent on the number of participants and has not been determined yet.
In addition to the above tours that can be arranged through Lucy, you may also wish to consider visiting the Castel St' Angelo at the opposite end of the Via della Conciliazione from St. Peter Square; a visit to the Vatican Museums and Sistine Chapel; or try the Hop on Hop Off Bus to see the sights of Rome such as the Colisseum, Forum, Trevi Fountain, Panthon, etc. These you can do on your own and you will find offers of tickets for all these Vatican Museums and Hop on Hop Off Bus everywhere.
I'll be writing to you again with more information about our WUCWO audience with the Pope and the General Assembly as soon as more information becomes available.
In the meantime, enjoy the lovely anticipation of our time together in Italy with joy and serenity,
Maribeth
Maribeth Stewart Blogoslawski
Vice President General, World Union of Catholic Women's Organisations
WUCWO Regional Vice President, North America
WUCWO representative to the UN in New York
USA attendees can send a check made out to WUCWO and mail it to Maribeth Stewart, 24 Candee Ave., West Haven, CT 06516. You must send a copy of the registration form along with the check, please.
NCCW Member Call: WUCWO and the UN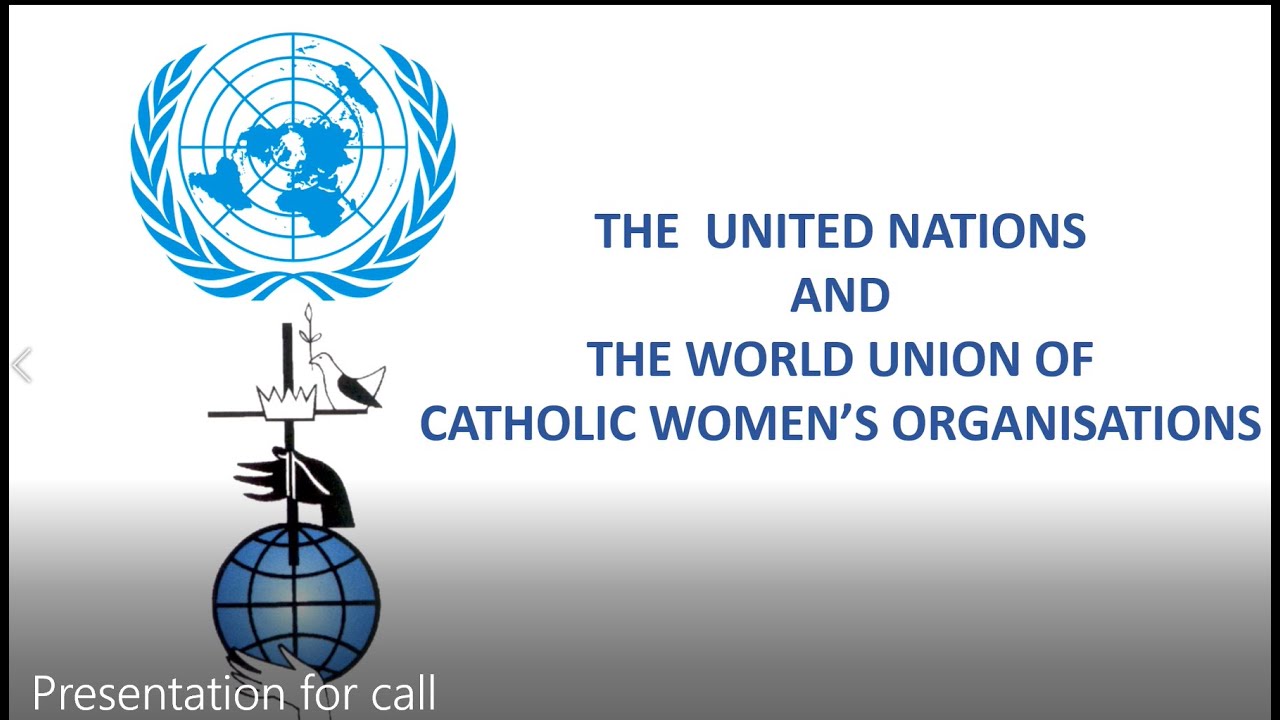 WUCWO REPORT FOR THE 2022 CWL CANADA CONVENTION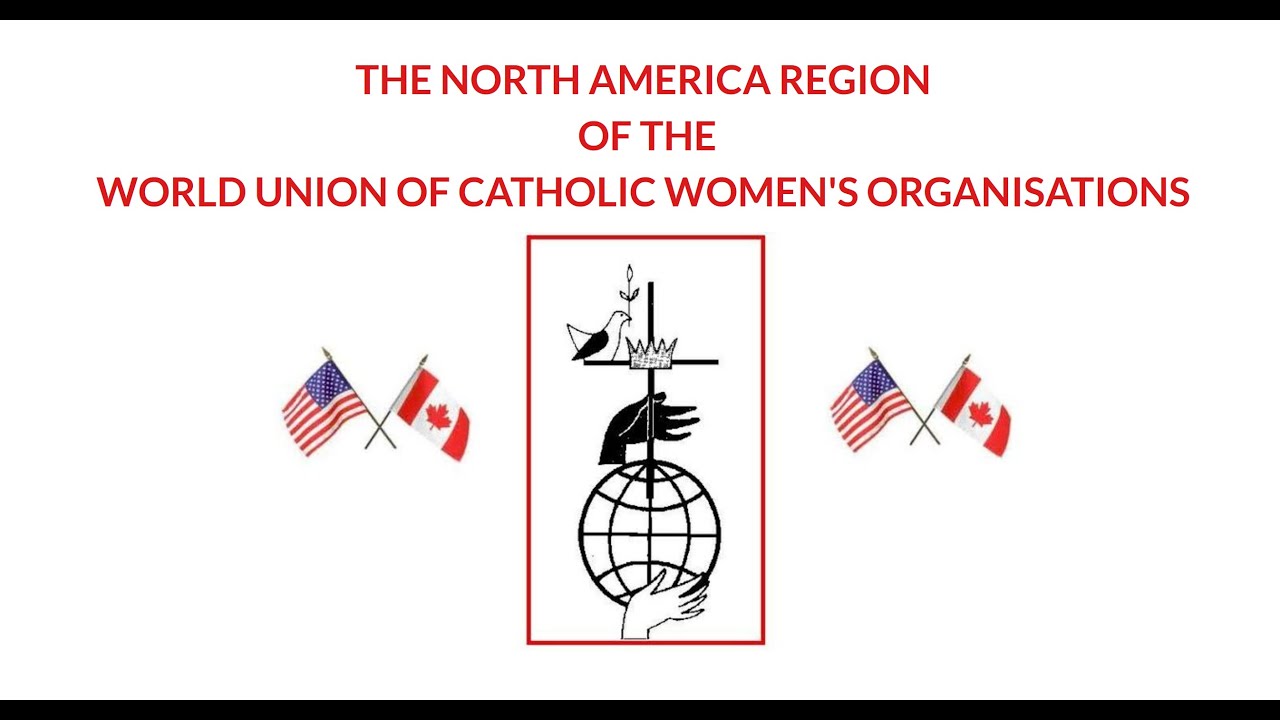 WUCWO REPORT FOR THE SYNOD ON SYNODALITY
INTRODUCTION: The World Union of Catholic Women's Organisations (WUCWO), founded in 1910, currently includes over 100 member organizations from more than 60 countries representing over 9 million Catholic women walking together from every region of the globe (www.wucwo.org). Blessed to have been erected as a Public Association of the Faithful in 2006, WUCWO fully embraces the doctrines and social justice teachings of our Holy Mother Church.
In an organization that spans the globe, just as our universal Church, our women come from different cultures and speak different languages but are closely bound as sisters through our shared Catholic faith. Different economic and political structures and social constructs provide widely varying realities for our women that are reflected in opportunities and challenges in their daily lives. Some of the difficulties encountered include: Patriarchal societies that dictate physical and educational detriments for the girl child; forced and child marriages; legal or cultural exclusion of women from inheritance or economic opportunities; incursions and wars; religious intolerance; effects of climate change and economic disparities causing widespread migration and refugee situations; corruption; lack of medical care; lack of recognition of the complementarity of men and women; and the dissolution of the traditional family structure. Our commonalities shine as women who share feminine-maternal traits such as compassion, empathy, tenderness, solidarity, fortitude, inner strength and strong faith based in eternal hope. WUCWO women gain strength from our Catholic faith and from walking with each other, recognizing their responsibility to shape the faith of the family and the next generations. Our member organizations work to enhance spirituality, leadership, and service opportunities for our Catholic women to improve their communities and the evangelization of our Catholic faith.UCWO has formed a Worldwide Women's Observatory to document and study the best ways to mitigate difficulties women face in different parts of the world; to give voice to those who are never heard that their potential might be realized. To date, the Observatory has completed studies in Latin America and the Caribbean and is starting work in Africa. It is envisioned that WUCWO's Observatory will eventually embrace the entire world.
A synodal approach has long been used by WUCWO as Regional Vice Presidents unite, share, and gather knowledge and input from the member organizations in their respective regions which are: Africa, Asia-Pacific, Europe, Latin American and the Caribbean, and North America.
The present Synod, so wonderful in the desire to capture the voice of all members of our Church, can benefit from the input of WUCWO representing Catholic women from so many regions, countries, cultures, and socio-economic-political systems. Our WUCWO women are from every spectrum of society, wealthy, middle class, and poor, and every level within our Church from the faithful lay women in the pew to those women who hold a leadership position in their parish, diocese, or religious order. Therefore, WUCWO, desiring to make a contribution of the voice of Catholic women world-wide to the Synod on Synodality and receiving the very welcome agreement of Cardinal Grech, Secretary General of the Synod of Bishops, to do so at a meeting with the WUCWO Executive in June 2022, presented the following questions to all members and is happy to provide a synopsis of the thoughtful and rich responses received from our women who rejoice in walking together:
Question 1: Please briefly note any obstacles to the Church becoming a more Synodal Church, one that listens, makes a common discernment, walks and learns together, at the following levels: Universal Church; Diocesan level; and Parish level.
Question 2: Please briefly note improvements the Church can make to move forward as a Synodal Church at the following levels: Universal; Diocesan; and Parish.
3
Though we had a short timespan to collect the responses from our women throughout the world, we were delighted to receive over a thousand written answers, many sending a composite report representing the responses they received from their entire organization. Taking that into account, WUCWO received the comments of over 5,000 Catholic women from around the world within less than a month from when the request was made for their participation. Clearly, WUCWO women are deeply committed to a more Synodal Church and are filled with great love for our Holy Mother Church.
Women from the following countries made their contributions to this report:
AFRICA: Cameroon, Eswatini, Ghana, Ivory Coast, Kenya, Malawi, Mali, Nigeria, and Senegal
ASIA-PACIFIC: Australia, India, Japan, Lebanon, New Zealand, and South Korea
EUROPE: Austria, England, France, Malta, Netherlands, Scotland, Spain, Switzerland, and Wales
LATIN AMERICA AND THE CARIBBEAN: Argentina and Cuba
NORTH AMERICA: Canada and United States of America
Following is a summary of the major points made in response to the two questions that were posed. The comments reported here are solely the view of the person who originally wrote them. WUCWO, as an International Public Association of the Faithful, adheres strictly to the doctrines and teachings of the Church and does not endorse statements not consonant with Church doctrine or teachings. That being stated, it should be noted that this report contains some ideas that are presently not completely in synch with Church teachings or regulations. WUCWO reports them here for the sake of providing the true and complete report of comments received in the spirit of synodality, listening to all the voices of those who responded to the request for their opinion and who believed that their comments would be conveyed to the Synod.
It is now WUCWO's privilege to present a brief summary of the main points gleaned from the responses received. Please understand that what follows immediately is by necessity just a very brief summary of the most frequently mentioned issues and suggestions received. This quick summary is followed by a more complete response divided by region that provides a more comprehensive look at all the issues and potential solutions mentioned.
QUESTION ONE: Obstacles to a Synodal Church
Clericalism leading to:
Abuse of power
Reluctance to change or explore new ideas/methods
Fear of ceding some control to qualified laity
Belief by some clergy and laity that the clergy are better Catholics or persons than the laity
Arbitrary disregard for committee conclusions or votes
Chauvinism:
Male domination of Church structures including lay organizations and parish ministries
Perpetuation of the historical ideology of women in Society and the Church as less than men
Church portrayal of women as temptresses and sinners
Lack of support for Pope Francis by some bishops and priests causing misinformation and confusion
among the laity
Rigid Hierarchical Structure:
Top down
Lack of accessibility and dialogue
Lack of accountability and information sharing
Lack of consistency among dioceses
4
Administrative bottlenecks
Archaic rules on conscience matters (e.g. contraception, divorce)
Disconnect of bishop from parishes
Uphold status quo or true change to Synodal Church? Listening to the Holy Spirit?
Some clergy too political
Care for Clergy lacking:
Celibate priests lonely and withdrawn
Lack of pastoral care for clergy
Overwhelmed with administrative duties at expense of pastoral work/vocation
Cultural Diversity issues:
Racism
Discrimination/ Favoritism based on ethnicity, culture, language, race, tribe, wealth, education
Cultural and theological differences across bishops' conferences
Traditional beliefs strong in some places (Christian by day, traditional by night)
Communication issues:
Reluctance to share information with the laity
Need to update to modern technology
Need to spread the message beyond the pews
Publicity widespread for negative stories and totally lacking for all the good the Church does
Language: Average person is not familiar with the language used in Vatican documents
Inadequate attention to diversity of the many languages used throughout our universal Church
Liturgy and Devotions:
Ignore cultural diversity
Lack of consistent proper form
Physically and learning disabled excluded from access and participation
Lack of vocations and use of Foreign/Missionary Priests:
Lack of priests -lack of Mass and Sacraments
Parish closures in neighborhoods causing distress, disaffection, and departure from the Church
Resources lacking in small parishes to offer ministries but cathedral can be embellished
Lack of respect for culture by mission priests where they are assigned
Often difficult to understand foreign priests
Wrong to take priests from Africa or India for Europe or other regions
Sex abuse crisis resulting in lack of trust and credibility
Seminarian selection and preparation:
Too closed off from real world
Uncomfortable speaking with women
Thorough grounding in Church teachings needed
Thorough preparation in homiletics needed-boring sermons
Catechesis:
Bad or no catechesis resulting in laity unprepared to defend Church teachings or evangelize
No awareness of Canon Law
Catholic schools do not emphasize or present Catholic instruction
5
Youth:
Excluded from parish decisions
Don't feel their contributions are valued
No forum for youth
Role of Women in the Church: Lack of voice, presence, and respect at all levels of the Church
QUESTIONS TWO: Suggestions for improvements so as to achieve a Synodal Church
Clericalism:
Educate the clergy and the laity to understand that all are equal in God's eyes and in our Church
and each brings their unique talents and gifts to share in the mission of leading all to holiness
Many new priests today embrace clericalism and give the impression of being better and above
the laity. This resurgence must be stopped and begins with the training of seminarians.
Laity (and clergy) must be taught the Marian and Petrine principles that provide the correct
emphasis on the complementary roles of the laity and the clergy
The ability of a pastor to veto a consensus opinion of the congregation or a committee of the
parish must be removed
Chauvinism:
Integrate committees and commissions so that they represent all the people of God to include
equal representation of women
Re-examine and correct the portrayal of women incorrectly branded as sinners in the Church's
past and ensure that the stories of women who were great disciples be known
Educate all members of the Church to the abilities and gifts of women as well as to their strong
qualities. Honor all women and accept that women are normally the first to teach the faith
to their children and are the vessels of life
Educate clergy on the complementarity of men and women
Educate young boys on the equality of women and the enrichment women can bring to all
Lack of Support for Pope Francis: Those bishops who oppose Pope Francis should be removed immediately from their posts
Priests who choose not to support the initiatives of the Pope should be removed immediately
Rigid Hierarchical Structure:
Essential to listen to the Holy Spirit and let the Holy Spirit guide all decisions and paths taken
Let the Holy Spirit guide us to a new age where all are equal
Work for equal governance and inclusion
Select bishops who can lead with competence, goodness, ability, and have the favor of their laity
Ensure adequate checks and balances (e.g., finances, discipline, etc.)
Listen to the opinion of the lay faithful and not just the clergy
Get beyond a Euro-centric way of thinking
Re-examine rules made that should be left to conscience decisions (i.e. contraception, divorce…)
Hierarchical structure makes synodality difficult. Bishops vote on the universal level; priests
vote on the diocesan level; but in parishes the pastor can overrule a committee decision
Readiness of bishops to create a culture of open communication and shared decision making
varies greatly. New bishops must embrace this vision and make it a reality around the world
Priests and bishops who embrace a political stance in opposition to the Pope's teaching should
be removed
Encourage inter-parish and inter-diocesan events to connect everyone as a people of God
6
Care for Clergy lacking:
Diocesan bishops should ensure that pastoral care for clergy is provided
Ensure that parish priests have time for a retreat and continuing education
Many priests are lonely – Consider option for married priests
Allow qualified lay persons to assume administrative duties to free clergy for pastoral work and
to permit sufficient time for clergy to get to know their congregations
Cultural Diversity Issues:
Create an environment where all feel welcome and an equal integral part of the Church,
especially at the parish level
Eradicate racism and its opposite, favoritism.
Educate the minds and hearts of all the Church to see each other as brothers and sisters in the
family of God
Honor and incorporate cultural traditions that are not in opposition to Christianity
Preach carefully but firmly against traditional culture where it is in opposition to Christianity
Communication Issues:
Need to use varied media to reach the young and retain the elder members of the congregation
Need to update to latest technology to ensure rapid and accurate communication
Need communication lines between bishops and laity to be easily accessible and bishops and
pastors who are willing to speak with the laity
Need better publicity for the good work of the Church
Need to expose the laity to the latest Church documents and initiatives
Language:
Vatican documents need a new language; one that is understood by the average lay person
Issue liturgical and devotional texts in language that is understood by all and appropriate to
different cultures
Incorporate lay persons into committees that approve language changes in liturgical texts
Liturgy and Devotions:
Accommodate physically and learning disabled persons through access to the church and
participation in the liturgy or devotion
Provide texts that are culturally appropriate and consistent with proper form
Lack of Vocations and use of Foreign/Missionary Priests
Re-evaluate closing parishes and churches. Look at lay ministers running a parish with regular
visits from a priest to celebrate Mass and the Sacraments and provide support
Encourage vocations by example of clergy living a happy life and by word from the pulpit
Parents and laity should approach youth and directly ask them if they have considered whether
they have considered a vocation
Lack of priests could be solved by opening the priesthood to married men and to older
experienced men, and by allowing celibacy to be optional for all single men that might
have a vocation
Often, priests from Africa are very difficult to understand in other regions
Train mission priests to have an appreciation for the culture where they are being sent
It is wrong to strip Africa and India of their priests for Europe and other regions. This "solution"
needs to end
Sex abuse crisis:
Publicize the decline in occurrences and all the good work done to aid victims; establish norms;
and select seminarians who are not inclined to pedophilia
7
Ensure that seminary screening and current norms are enforced
Selection and Preparation of Seminarians
Have seminarians spend the greater part of their training in the real world
Have women teachers at seminaries so seminarians learn how to speak with and be around
women
Provide a very thorough training in Church teachings
Provide excellent training in homiletics as the homily each week might be the only Catholic
education received by a parishioner. All of us have sat through too many boring wandering homilies containing little connection to our realities making listening an onerous task
Educate them on the seminal importance of the family to Society and the Church
Recruit seminarians with specific pastoral cultural needs in mind
Catechesis
Every parish must provide consistent excellent training in our Catholic faith to include, Scripture,
tradition, catechism, Church teachings, pertinent Canon Law, and Vatican documents.This training must be available at ALL age levels
Through this training, every Catholic should be equipped to evangelize and to defend our
Catholic faith when challenged
Catholic schools must be made affordable for any Catholic student who wishes to attend
Catholic schools must return to making our faith integral to the life and education of each
Student
Care for Creation
Continue to promote caring for the planet and people, especially the most vulnerable
Youth:
Our youth must be made to feel an essential and valued part of each level of the Church
Young persons should be a part of every Parish Council and group
Outreach should be done to contact baptized young persons who may not be coming to church
Events and programs that are instructive and attractive to youth should be available in every
parish and diocese (World Youth Day; programs that involve spirituality to include
Adoration, service, and fun; retreats, talks, etc.)
Include youth in preparation of liturgies and have youth liturgies that appeal to their taste in
music and approved form
Establish a Youth Group Coordinator at the Vatican who can provide voice and presence for
young people at Synods and consultation for committees
Women:
We realize that steps are being made to remedy the lack of female membership of Vatican committees and to fill important positions in the Dicasteries. For this, we are most grateful.
We are very pleased to have our President General named to the Dicastery of Bishops along with two religious Sisters. It was mentioned that this is a step in the right direction because many of the bishops still do not embrace having women in leadership roles. To he truly inclusive, it was mentioned that it would be best to also name some married women to the Dicastery to have a balanced voice in selection of bishops.
Other comments called for consideration of women deacons and that qualified lay women be allowed to preach.
Many comments requested that every level of the Church ensure that women and the gifts they bring to leadership roles in the Church are valued, their voices heard with respect and that they are treated equally.
8
Equal representation on committees is considered essential to provide the unique voice and skills women can bring.
We must complete the breakthrough of moving women from second-class status to equality and it is essential that men, especially clergy, accept that women are as capable as men in leadership roles and belong in equal representation on Church committees and in positions of importance. Women have many gifts and talents to bring to the table.
The above brief summary provides only the top level ideas brought forth in the responses received. A more complete sampling follows for each region and it is essential to a full understanding of the issues and potential solutions conveyed by WUCWO women that the following be read. It is in those pages that one will find the voice of the women as well as some issues that are not present in the summary above that includes only those issues most frequently noted.
AFRICA REGION: Consolidated comments
Question 1 OBSTACLES TO BECOMING A SYNODAL CHURCH:
UNIVERSAL:
Lack of support for Pope Francis' initiatives to promote the voice of the laity and women in the Church
Faithful are confused by the many Chrisitan churches and can be lost to the Catholic Church
Multiplicity of expressions of faith in worship
Racism -can a Black ever be Pope?
DIOCESAN:
Ethnic and linguistic diversities lead to a struggle to have an order of discipline over parishes, priests, and people
Tribalism
Discrimination among priests and the faithful; Social stratification based on finances and education
Male domination of leadership roles
Administrative bottlenecks that keep the faithful away and their voice not heard
Clericalism
Each diocese is struggling to find resources resulting in a lack of harmony in activity among dioceses
PARISH:
Traditional beliefs are still very strong (Christian by day and traditional by night)
Tribalism
Barriers to the family structure
Ethnic and language issues -foreign priests despise the culture of the lay faithful
Disrespect of priests
Clericalism
Abuse of power
9
Disrespect of elders by priests
Neglect of persons who do not belong to specific societies or associations, especially during difficult times
Church movements and associations not well managed and unwelcoming to new leadership
Favoritism based on wealth, class, and education
Lack of trust and confidence
Lack of financial accountability
Bad relationships between priests and the faithful as the congregation becomes overburdened with non-spiritual matters
Lack of respect, and presence of jealousy, and trust among laity
Lack of knowledge and misinterpretation of Scripture and Church teachings
IN BOTH DIOCESAN AND PARISH LEVELS:
Poor communication (top-down and not equal or open to all)
Diversity is a richness but generates many problems in service to our Catholic Mission
Poor catechetical instruction at all stages of life leads to weak faith or leaving the Church
Male dominated Church structures -no place for women or youth
Clergy does not represent the face of Christ to the faithful but many are obsessed with material goods, wealth, and prestige
Attitude of some, especially clergy and religious, that they are "more Catholic" than others
Clericalism
Discrimination based on gender, race, tribe, economic status
Lack of respect for the work women do in the Church
No procedures in place to guide us in walking together as a Synodal Church
Not enough awareness of Canon Law
Leadership from the lay faithful is dominated by men from small Christian communities through to the diocesan level
QUESTION 2 OPPORTUNITITES TO BECOME A MORE SYNODAL CHURCH:
UNIVERSAL:
Uniform worship in accord with liturgical texts for Mass and sacraments
Issue texts in language understood by all
Use a specific language in the context of the New Evangelization
Foster love among all the faithful at all levels -one Church
Hear women's voice and views through female representation
10
Provide equal governance (not top to bottom)
Unite all believers around the essence of Christian faith
Let the Holy Spirit guide the Church to a new age where all are equal just as we are all equal in the eyes of God
DIOCESAN:
Select bishops who can lead with righteousness, goodness, competence, and ability and who have the favor of most of the lay faithful
Avoid conflict among and within dioceses
Appoint lay administrators to handle day to day administrative duties so priests are free to concentrate on spiritual aspects
Remove clergy as administrators of schools
Provide good governance and an example of solidarity so we all learn to live together our joys and sorrows and face common concerns together
Ensure that the concerns of the clergy and the lay faithful are taken care of holistically
Recognize and appreciate the role of Catholic women. A church without women is an empty building without life
Need a system of checks and balances
Ensure adequate financial records
Ensure adequate disciplinary sanctions, when necessary
Treat all persons equally. Work together irrespective of class, social status, tribe, or nationality
Listen to the opinion of the lay faithful and not just to the clergy
Train more catechists for small Christian communities and have regular visits by a priest to support and encourage them
Organize Church programs for youth that teach Church doctrine, love of God, and include fun and service activities
Evangelize at the peripheries
PARISH:
Take into account values and ancestral beliefs that do not contradict Christianity
Avoid conflict at all levels
Men of God should detach themselves from secular lifestyles. Bring materialistic tendencies of clergy under control
Checks and balances should be implemented for finances and behavior
Treat all persons equally; discourage discrimination and favoritism
Keep churches in neighborhoods
11
Holiness is the business of all; not just reserved to a few
Have regular open forums for all the lay faithful for feedback collection
Establish and support youth groups to nurture responsible Catholic men and women for the Church of the future
Have refresher classes for catechism and Church writings for adults
Have ongoing retreats, seminars, and pilgrimages that are open to all the faithful
Always seek the Holy Spirit's intervention and guidance so we can walk together as a family.
Avoid clericalism; start in seminaries with exposure to real life and to Catholic women. We are all partners helping each other to reach holiness. Respect each other's skills
ALL LEVELS:
Good communication and collaboration
Encourage the youth to join Catholic organizations for the lay faithful as this is important in their formative years
Live as a Church family
Include all in decision making and planning. Invite all men and women, youth, ethnicities, and races and listen to all opinions equally.
Do away with clericalism starting in training for the priesthood
ASIA-PACIFIC REGION: Consolidated comments
The Asia-Pacific Region is so large and diverse that there are some comments specific to a particular country and not found in other areas of the region. In those cases, the comments will be identified by country.
Question 1 OBSTACLES TO BECOMING A SYNODAL CHURCH
UNIVERSAL:
Lack of recognition of diversity -welcome diversity at all levels and be mindful of cultural practices
Lack of ability to use one's gifts for fuller participation at every level of the Church
Archaic rules e.g. artificial contraception, need to be revoked. These are conscience decisions
A rigid hierarchical structure full of rules and regulations
Listen to all people -give HOPE!
Involve women in decision making and planning
Allow divorced Catholics to take the Sacrament
Find a way to give consecrated wine to the sick and dying
Sex abuse scandal
DIOCESAN:
12
Lack of women's voice and presence in leadership roles
Clericalism - Autocratic leadership of the bishops and priests that is vertical and rigid leading to less participation
Lack of communication among bishops, priests, religious, and laity
Bishops, clergy, and religious are reluctant to change
Hierarchy is inward looking and preoccupied with governance, bureaucracies, and committees forming new committees even as the pews empty
Inability of some bishops to be open to new ideas
Mistrust by the laity -will their contribution really be considered?
Lack of priests means lack of Mass and Sacraments
Seminarians are too closeted with no experience of the real world
Lack of training and oversight of missionary priests
Cultural and theological differences across episcopal conferences
Lack of appreciation for cultural diversity -Racism
Bigger parishes are not better -loss of identity and closeness to the Church -feel abandoned
The large number of dioceses in Japan make it difficult to act in union with each other
In Japan, the Catholic Mission Schools are now run by non-Christians as ordinary schools
PARISH:
In many parishes, the priest is satisfied with providing Mass and indifferent to interaction with parishioners
Lack of clergy
Many go to church driven by a strong sense of duty rather than joyfully looking forward to celebrating the Eucharist
No place for sharing with the priests and congregation
Disconnect between priest and the parish (Lebanon comment)
Priests do not encourage connections between parishes
Unwillingness to change leadership in church organizations
In many areas, both husband and wife have jobs which limits church activities to the elderly. Cannot walk with the youth.
Everything gets decided by the same people in the parish with the general congregation just getting reports and no voice
Occasional presence of native pagan spirituality; This is inappropriate as they worship many gods and not the One True God
Clericalism -inability or reluctance of clergy to hand over any power to the laity.
13
QUESTION 2 OPPORTUNITITES TO BECOME A MORE SYNODAL CHURCH:
UNIVERSAL:
Eradicate clericalism
Empower women to include leadership roles. Acknowledge and appreciate the contributions women can make and the skills they can bring
Include one or more married women on the committee to select bishops
Include the active participation of laity and professionals in Synods and commissions
Respond to Laudato si' with urgency
Be hospitable and inclusive: young, indigenous, immigrants, LGTBQ+ Catholics
Get beyond a Europe-centered way of thinking
Recognize and implement deeper bi-cultural relationships with indigenous and local languages
Promote the ability of the laity to speak out freely and openly -not just always listen to the Hierarchy
Provide the option for priests to marry and ordain married men and consider ordination of women
Let older persons with experience become priests and religious
Consider the deaconate for women (Australia)
Two comments from Australia requested the re-institution of the 3rd Rite of Reconciliation
Japan commented that it would be preferred to appeal to Society as the Catholic Church in Japan
Ensure that the recommendations from Vatican II are implemented in every diocese
DIOCESAN:
Seminarians should live in the real world for most of their training
Overseas (mission) priests should be trained in respect for the culture in the countries to which they are being sent
Train laity to preside over Communion Services and to run parishes with occasional visits from a priest
Connect parishes -communication
Create activities in which all parishes can participate
Stop closing neighborhood churches, especially where there are connected schools
In Japan, restore the function of the Catholic Mission Schools
Japan also commented that the laity are unaware of what is discussed at the Council of Bishops
Listen to the direction of Pope Francis who is inspired by the Holy Spirit
PARISH:
Provide opportunities for all to learn and pray together
Encourage interreligious dialogue and events
14
Provide opportunities for contact with the bishop
Communication is key
Provide reporting sessions so the laity is aware of plans being made
Parish finances must be transparent
Respect and reflect the opinion of women (who in Japan make up the majority of Church members)
Provide welcome and support for families with children
Care for the weakest of the Church's children. Encourage organizations that reach out to those in spiritual and physical need
Strengthen spiritual life in the parish. Hold spiritual formation sessions
Hold fewer meetings and encourage more work with Society (e.g., volunteer work)
Encourage and engage with the youth
EUROPE REGION Consolidated comments
Question 1 OBSTACLES TO BECOMING A SYNODAL CHURCH
UNIVERSAL:
Ongoing issues re: mis-management of the child abuse scandal leading to loss of trust and credibility
Absence of women's perspective in decision making. Male dominated. No balanced perspective is possible like this
Use of language not understood outside of Church circles
Hierarchical structure of the Church anchored in Canon Law precludes synodality. Voting is reserved to bishops on the Universal level, to priests on the diocesan level, and in parishes, the pastor can overrule committee decisions
The historical image of woman promoted by the Church is of a temptress and sinner, inferior
Institutional and fundamental discrimination against women, laity, vulnerable, and poor
Make celibacy optional for priests (several comments) and ordain women (one comment)
DIOCESAN:
Lack of humility and will for dialogue
Inability to listen fraternally and attentively
Lack of diocesan-parish subsidiarity (all decisions rest ultimately with the bishop)
Unwillingness to change leading to not going to the existential peripheries and fear of failure
Unwilling to seek new solutions or methods
Not feeling qualified to take on new roles
Bishops openly political
15
Readiness of bishops to create a culture of open communication and shared decision making varies by
diocese
Communications within diocese is inadequate and needs to be updated
Failure to plan for decline in clergy numbers. Stripping priests from Africa and India doesn't work and is
inappropriate
Poor selection criteria and poor training of seminarians means they are ill-equipped to deal with Society
Little pastoral care for clergy. Priests are too isolated and become lonely
Bishops do not have the time to get to know the problems in parishes and only hear what the priest tells
him. Bishop is a distant figure
Closure of parish neighborhood churches means losing Catholics
Disagreement or criticism of the Pope's decisions by some bishops is confusing and misleading to the
laity
At diocesan and parish levels the Church leaders are unreadable and unavailable
PARISH:
Clericalism and exaggerated understanding of the priesthood.
Arbitrary power of priests -no obligation to consult the laity. Unwilling to dialogue or co-create
Small parishes lack the resources to hire youth coordinator, music director, etc.,
Exclusion from the Eucharist (includes self-exclusion) such as for irregular relationships, etc.
Indifferent preaching on Scripture
Administrative duties preclude clergy from spiritual ministry
Clergy do not know the parishioners; barriers to understanding each other
Celibate clergy do not have a balanced view of married or family life
Parish clergy ignore women's gifts. Women are not valued, not heard, not taken seriously
Rivalry among some parishioners to be recognized as important; always wanting to be the head of
something
Lack of knowledge beyond the parish by the laity
Lack of adequate catechesis. Parishioners unable to evangelize of defend the Catholic faith when
confronted by non-believers or non-Catholics
No idea of the Pope's weekly teaching or Vatican documents
Lack of communication in the parish leads to apathy
QUESTION 2 OPPORTUNITITES TO BECOME A MORE SYNODAL CHURCH
UNIVERSAL:
Realize that the Church is "we" and not "I" meaning we are all protagonists in the construction of a
Synodal Church
16
Build on the initiatives of Vatican II. Pope Francis is on the right path guided by the Spirit but he needs the support of all the bishops
Put into practice the message of love and forgiveness and emphasize basic Catholic teachings
Clergy and laity acting united -actively participating with the gifts of each valued. Involve all in ministries.
Recognize the relationship between clergy and laity in Canon Law clearly as Christ would have wished. The equal dignity of men and women should be recognized in Canon Law. This is necessary so that women in synodal assemblies are not subject to discrimination or ignored with no vote
A Church guided by the Holy Spirit to a greater openness of discernment
Welcoming all forms of liturgy to include the Latin Mass which attracts many young people
Having Catholic schools offer daily prayer and instruction in Church teachings
Homilies that address Scripture well and apply them to modern daily life. Homilies that address issues like life from conception; complementarity between men and women; human ecology
Encourage recognition of regional cultures and allow a diversity of Rites
Work toward a more democratic structure with balanced representation of the whole of the people of God in various ministries of the Church
Consider married clergy and women deacons
Open the preaching ministry to all who have the necessary gifts to share God's word
Engage the laity in decisions about new translations of Scripture and liturgical texts so the wording is understandable and familiar
Review Scripture and Church history to make women visible and gain their rightful place (not as sinners and temptresses). There were many great women disciples
Continue to promote caring for the planet and people, especially the most vulnerable
Demand an accountability for processes in the Church
Appoint an overall Youth Group leader to represent youth at the universal level. Young persons then will have voice and feel included in the Church
DIOCESAN:
Provide funding for education for lay ministries. Encourage young people to engage in lay ministry
Provide training for formation of lay leaders, especially women. There needs to be a greater appreciation for women's gifts
Better selection and training of seminarians. Include laity in clergy formation
Develop structures for consultation/ decision making that break down hierarchical barriers and strive for consensus. Hold diocesan synods open to all Catholics in the diocese and allow laity to be included in running the diocese
Value the contributions that women can make. Use their creativity and talents
Take the See, Judge, Act model seriously
17
Communicate information on activities and events at all parishes in the diocese so everyone can attend
PARISH:
Establish effective elected parish councils that have the power to manage finances and property freeing the clergy to focus on sacramental ministry. Laity on parish councils will bring increased involvement of the laity in the parish creating a Church more responsive to today's world
Adapt new updated technologies for communication
Priests need to meet with their parishioners and move away from administrative work. Support pastors
Clergy need to live service, not power
Train people in Scripture and Church teachings to teach and evangelize so Catholics can confidently explain their faith
LATIN AMERICA AND THE CARIBBEAN REGION Consolidated comments
Question 1 OBSTACLES TO BECOMING A SYNODAL CHURCH
Clericalism both in the minds of the clergy and the laity
Resistance to different ways of exercising authority
The absence of true bodies of communion for consultation and decision making with the ability to put decisions made into practice immediately
Hindering the equal participation of women in decision making
Fear or reluctance of the laity to assume new responsibilities
Not telling the world what the Church does for Society (e.g., education, family strength, health care, etc.)
QUESTION 2 OPPORTUNITITES TO BECOME A MORE SYNODAL CHURCH
Plan conferences with parishioners to listen and build bridges
Change the mentality that empowers clericalism in the clergy and the laity
Synodal formation in seminars and incorporating women as teachers
New responsibilities for the laity
Overcome prejudices
Lighten medieval liturgical expression
Listening and formation for the laity
Improved communication methods
Demonstrate the value of the Church to the world and its commitment to our brothers and sisters
18
NORTH AMERICA REGION Consolidated comments
Question 1 OBSTACLES TO BECOMING A SYNODAL CHURCH
UNIVERSAL:
The historical ideology of women as subservient to men; the sinful behavior of sex, gender preferences
Vatican documents need more concise and easier to understand wording
Historically, the hierarchical structure of the Church has been top down and has not solicited input from its members, especially women. This will make it difficult for many to believe that their opinions will be listened to
Being tied to tradition and reluctance to change
Racism
Exclusion of people with learning and physical disabilities. Access to churches, access to the liturgy, and access to having an active part in the Mass are all denied.
Concern that the Church may be more interested in maintaining the status quo rather than being the Church that Jesus instituted. Is it more interested in protecting the institution or doing her utmost to bring all her members to holiness?
Is the Church asking how women may be more of an equal part of the Body of Christ?
Traditionalist mindset
Devotionals do not represent all races/ethnicities
DIOCESAN:
Some bishops follow papal directives; some do not. They need to come into line or give up their office.
Different dioceses have different consequences for behavior; everything depends on the bishop's vision
Reluctance of some clergy to have laity participate in diocesan synodal discussions or meetings with no repercussions from the diocese. Lack of firm and consistent leadership
More consistency within the diocese in areas of teaching, following the proper format for Mass
Some of the bishops are very political; this should not be allowed. Some bishops are our greatest obstacle
The closure of parishes and churches has resulted in the loss of identity for many Catholics. This has been very bad sending a terrible message to the public and causing many Catholics to look to other faiths or stop belonging to any organized religion
Clericalism – bishops and priests who view Synodal discussions as a challenge to their decision making authority
Our priests have not been trained to listen to their parishioners
Black parish school and church closures
Neglect of Black vocations
19
PARISH:
Not enough information shared at the parish level to understand what a Synodal Church is
Communication -Reluctance of parishioners to state their opinion to the clergy because they don't think the priest cares or will listen anyway
Clericalism -pastor overseeing the parish and doing whatever he wishes, disregarding committee or professional recommendations.
Chauvinism that allows clergy to presume they are above everyone and can dictate to the parishioners what they want for the church regardless of what the parishioners want.
Racism and Tribalism: In some churches, people of different ethnicities feel they are looked at with disdain and don't feel they belong. This also works in reverse when long-time parishioners feel displaced as Masses are celebrated in another language or with different socio cultural differences with singing and dancing in unfamiliar languages as new groups arrive and "take over" the church
Stories about corruption in the Church. Nothing in the news about the good work the Church does all around the world
Reality is that you can shop for the parish you want: Rich? Get a parish that doesn't rock the boat about responsibility to the poor. Ex- military? Get a parish where the pastor doesn't talk about the evil of war. Traditional? Get an older traditional pastor. None of this lack of consistent message helps spiritual growth
Priest who preaches from the Readings with no negativity for sinful behavior and then urges us to go to Reconciliation. Younger people have no concept of sin or most Church teachings except the feel good ones.
Apathy among young adults to seek a closer walk with God. Many leave the faith because of laziness and secular influence.
Humans in general forget the important message: Love God, love yourself, love others. Love is a difficult thing requiring time, thought, and prayer. Society discourages all of this.
The knowledge and understanding of the Catholic faith has not been transmitted well for some time causing misinterpretation, misunderstanding, and division.
The poor quality of religious education in schools and churches
Today, there are often more non-Catholic students in Catholic schools than Catholics and the teaching of the faith has become secondary or nearly absent
Past missionary activity
Careerism of clergy, present at every level of the Church
QUESTION 2 OPPORTUNITITES TO BECOME A MORE SYNODAL CHURCH
UNIVERSAL:
Pope Francis is definitely on the right path. He practices what he preaches, very accepting of all sinners, interested in protecting children from predators. In liturgical practices, he has a good hold on reality for all countries and evangelization. We pray his work continues. Every bishop should be held accountable for following his direction.
20
Stop watering down the teachings of the Church and preach well. Too many young Catholics are walking away and going to Bible churches because they "tell it like it is."
Always listen to the call of the Holy Spirit
Persistent education of the congregation on how to listen to the Holy Spirit
Listen and be open to new ideas
Increased dialogue and inclusion of women in planning and decision making processes in the Church. Honor and value what women bring to the table
While we must be in the world but not of the world, there is a need for the voice of women to be heard and heeded
Recognize that many of the lay faithful are cut off from the Eucharist because they married the wrong person when they were young, All other mistakes made are forgiven; why not this one? To lose something so central and vitally important for a youthful error is unmerciful
Teach Church members diversity and acceptance of all people in our Church
Promote vocations directly in Black/African American, Latino, and Native American communities
Listen to the cry of the poor and marginalized and of the earth. Preach that Laudato si' is not optional
There has to be an appreciation that the Church is international and there may not be a one size fits all solution to many issues
More resources for young families
DIOCESAN:
More frequent diocesan Synod-like meetings with follow-up. Participants should be informed about the proposed changes and the expected timeline for implementation.
Structure and process must be aligned to achieve a synodal process: Organizational structure at the diocesan level and performance objectives for each parish priest should be a part of this
Honor Holy Days that seem to have been diminished in the recent past
Better access and engagement of bishops with Black Catholics, Hispanic Catholics, Asian-American Catholics, and Native American Catholics
Communication from the diocese to the parish needs to be improved so that all parishioners receive pertinent information. For instance, in one parish the writer had to contact her Archdiocese as she had heard nothing about the Synod for Synodality or the US Eucharistic Revival except through her Catholic women's organization
Update and use technology to reach all parishioners
Place laity in charge in concert with the bishop. The majority of the diocese are lay persons, many educated in theology and our Catholic faith. Work out that journey in faith; stay true to the Church and the inspiration of the Holy Spirit.
More use of multiple media platforms to retain the younger generation while not doing away with ways to reach the older generation
21
Continue working with our youth on events like World Youth Day, concerts, retreats and spirituality experiences, and fun activities
Create a forum for young people to express their views
Seminarians need to teach Catholic doctrine well so it is proclaimed courageously so the laity know and love it.
Seminaries must take an active part in teaching their students about disability and how it can be overcome in church settings
Allow qualified lay persons to run the administrative end of parishes and allow the clergy to concentrate on the pastoral ministry for which they were trained
Faithful Catholic women's organizations need to be recognized and not dependent on pastors or bishops for approvals
We are in difficult times. Open the door to the church to anyone who wants to hear the Gospel without discrimination
Consolidate common ministries (serve the poor, etc.) to be more effective rather than every parish doing their own little bit
PARISH:
Listen and let the Holy Spirit take control of our judgments, moving toward consensus. This is the fruit of communal discernment serving the evangelizing mission of the Church
Be warm and welcoming to all who come through the church door
The pastor should be sensitive to socio-cultural differences and encourage activities that bring everyone together in the church
The need for dialogue to address prejudices and reconciliation should be addressed
Parish Councils that represent all the people to bring about full inclusion with feedback on decisions taken
Guidance for parishioners on what a Synodal Church is
Listen to the needs of the parishioners without rushing to judgement on why a need might be a reality.
Implement excellent catechesis programs for children, adolescents, young adults, and adults so that they do not leave the Church and so that they understand the beauty, history, and clear path the Church offers to God
Teach the different kinds of prayer
More Eucharistic Adoration and understanding of the True Presence
More spiritual growth and Scripture study groups
Help divorced women to know that they are still welcome to the Eucharist
Train lay ministers (leadership, values and principles, effective communication, conflict resolution, etc.) to prepare parishioners to be open to all
22
Recruit Catholic children regardless of income as students in Catholic schools and restore the preeminence of teaching the Catholic faith in Catholic schools
Implement listening sessions in the parish on a regular basis with follow-through. Create an atmosphere where persons can feel comfortable speaking openly
Have a point person from each parish (not the clergy) to bring ideas that are being promoted nationally and from the Vatican to the parish
CONCLUSION:
From the above one can learn that our WUCWO women are eager to embrace a more Synodal Church and that they thoughtfully and sincerely offer potential pathways and solutions to issues that are preventing our reaching that goal. It is apparent from the responses received that there is great variation in the embrace of this goal from one diocese to another due to non-support or lack of attention by some bishops and priests who are reluctant to try new ways perhaps out of fear of losing power or authority. Clericalism surfaced as the most often cited impediment to a Synodal Church from every region of the world. This will be difficult but essential to eradicate if we are to become a Church that listens, walks, and discerns together. WUCWO being an organization for women, it is not surprising that the second most cited issue concerned the role of women in the Church which we gratefully see expanding under Pope Francis but in many places held back due to traditional societal norms. Our Church can continue to lead the way in establishing the equal and complementary role of women and men. Overall, every region invoked the guidance of the Holy Spirit for this powerful, joyful, and hopeful process of walking together as a Synodal Church.
WUCWO extends its profound gratitude to Cardinal Grech for his support of this brief but very welcomed survey. We are deeply honored to offer our results to present the views of faithful Catholic women world-wide to assist in preparation for the Synod on Synodality.
May Mary, Queen of Peace, Patroness of the World Union of Catholic Women's Organisations, ask her Divine Son to bless the work and outcome of the Synod and the Holy Spirit to guide and bless the decisions made for our beloved Church.
Prepared by Mary Elizabeth Stewart Blogoslawski, WUCWO Vice President General
22 July 2022
WORLD WOMEN OBSERVATORY: AFRICA
LISTENING, MAKING VISIBLE AND ACTING FOR THE SUFFERING WOMEN IN AFRICA
"In truth I tell you, in so far as you did this to one of the least of these brothers of mine, you did it to me." (Mt. 25:40)
Dear friends of WUCWO, as you know, in 2021 we launched, in Latin America and the Caribbean, the pilot phase of the World Women Observatory. Thank God, we are finishing this first phase with great results that we will share with you. This year we will start in Africa, which is a huge challenge and, Lord willing, next year we will continue with Asia and so on.
As mentioned by our President General in this magazine, we are proposing something new to the women of WUCWO in this Lenten season: to make a concrete charitable offering to help the most suffering women in Africa. We invite you to participate in solidarity in this Campaign of Prayer and Fundraising to realise the Observatory in Africa, one of the most needy regions of the world, and thus:
• to highlight and give visibility to the most suffering women, the harm they have to endure and the wounds inflicted on their dignity;
• to give these women the opportunity to reflect on themselves, their feelings, sufferings and dreams; and
• to allow them to speak freely, to be heard and to discover and value their great riches; all this in order to find together, inspire, participate and promote in the Church, governments and society, solutions to their sufferings that take into account their great values and riches.
This campaign also marks this year's WUCWO Day, on 13 May 2022, and will continue thereafter. It aims to respond in a Christian way to the worsening situation of the most vulnerable women in the region due to the Covid-19 pandemic and the devastating effects of climate change.
DIFFERENT WAYS OF TAKING PART IN THIS CAMPAIGN INDIVIDUAL
Every woman in a WUCWO member organisation is invited to collaborate, according to her possibilities, with:
1. Individual donation: the equivalent of a ticket on public transport, the cost of the food you won't eat due to fasting, in short, whatever everyone is able and willing to give, from 1 dollar/euro or less, to 100, 500 or 1000 dollars or euros... for this one time only. Even if the donation seems symbolic, it will always be significant, just like the "widow's mite," which, as Jesus tells us, was of great value.
2. Patronage of the Observatory: becoming an "Observatory Patroness" means donating 200 USD/ Euros or more per year, for 3 years (2022, 2023 and 2024). Patronesses will receive a diploma at the next General Assembly (this would also support the start-up of the Observatory in Asia). INSTITUTIONAL
Each WUCWO member organisation can collaborate in the following ways:
1. Organisation, dissemination of the campaign and collection of donations. During Lent, on the occasion of the WUCWO Day and/or in the following months, it is recommended to carry out a campaign according to the methods and possibilities of each culture and place, with activities such as fasting and offering of the amount saved with collections at masses, meals, raffles, auctions, etc. Individual and patronage donations can be sent directly to WUCWO or collected by the organisation and transferred in one single transaction to our accounts to save bank charges.
2. Sponsorship of the project. Becoming a sponsor of the Observatory means that the organisation commits to a contribution of 1,000 to 5,000 dollars/euros or more per year, for 3 years (2022, 2023 and 2024). The organisation will be duly acknowledged at the next General Assembly.
3. Obtaining sponsors. Member organisations can act as bridges and connect WUCWO with foundations, funds, individual sponsors, etc. who are willing to contribute money for the realisation of the Observatory in Africa.
REMEMBER:
• donations in euros should be made by sending a bank transfer addressed to UMOFC, BANCO BPM – Roma AG. 4 ITALIA. IBAN: IT54 V 05034 03204 0000 0000 9442 SWIFT: BAPPIT21A64.
• donations in US dollars should be made:
a) with a bank transfer to WUCWO, account No. 801038573, Swift Code CITI US 33, Routing # 271070801, Intermediary Bank 021000089 CITI US 33, CITIBANK 5134 Main Street, Downers Grove, Illinois 60515, USA, or
b) by cheque in US dollars made payable to WUCWO-UMOFC and sent to Maribeth Stewart at the following address: 24 Candee Avenue West Haven, Connecticut 06516 USA.
It is essential that you send a copy of the transfer or cheque to the Secretariat, indicating that it is a donation to the observatory.
Let us weave together, with our resilience, a "spiritual, moral and concrete network... that will allow us to go out to meet the women who suffer most and soothe their wounds." Thank you in advance for your generosity. May the Lord "give you back a hundredfold."
Go to the existential peripheries with freedom of heart!
(Pope Francis)
MEETING WITH THE WOMEN OF THE MIDDLE EAST AND THE MEDITERRANEAN OCTOBER 2022

Dear friend,
With great joy, after two and a half years of communicating digitally, we can start again with face-to-face reunions: by the grace of God, we are organising the Third Meeting with Women from the Middle East and the Mediterranean, open to all WUCWO women who wish to participate, in Rafina, Athens, Greece, from 7 to 10 October 2022.
The Prefect of the Congregation for Oriental Churches, Cardinal Leonardo Sandri, has encouraged us and gives us his blessing for the realisation of this meeting. The Bishop of the Greek-Byzantine rite of Athens, Mgr Nin, and our organisation, the Association of Greek Catholic Women, are waiting for us in Greece with open arms.
It is a great moment to develop together the theme "Women Builders of Peace in a Church which Goes Forth". We will also be able to advance in formation for our pastoral action at the local level for the family and the role of women in the Church. We have invited the Under-Secretary of the Dicastery for the Laity, Family and Life, Prof. Gabriella Gambino. As we did in Amman, Jordan (2013) and in Bari, Italy (2016), we will have the possibility to listen to and learn from women engaged in their local churches.
It will also be an exceptional moment to show and share what each of our organisations is doing - there will be small tables where we will showcase projects and products, and sell some of them - and talk about collaborative action among member organisations.
All this and much more in a synodal atmosphere, where it will be possible to meet and talk with the future candidates for WUCWO President, who will be elected by the next Board at the Assisi Assembly in 2023.
Although the event will be held in the town of Rafina, Greece, at the Avra Hotel, there will be plenty of opportunities to get to know Athens and some of its wonders.
It is important to register before 6 June 2022 in order to be able to confirm reservations with the hotel. There is a quota of places already reserved which will be allocated as registrations come in. In the event of additional registrations, we will check with the hotel to see if there is availability.
Please find attached a provisional programme and registration form.
For those who wish, an optional sightseeing tour can be arranged. Please find attached the relative information.
After such a long time of not being able to meet face to face, I believe that the Holy Spirit is leading us to a meeting that prepares our General Assembly in Assisi, as if it were a "pre-assembly", where the women of WUCWO can dream together of a renewed Church and WUCWO, hand in hand with Mary, Queen of Peace.
I look forward to seeing you in Athens 2022 and wish you a Holy Easter.
María Lía Zervino, Servidora
Presidente General
WUCWO - UMOFC


REGISTRATION FORM

for the

WUCWO CONFERENCE WITH WOMEN FROM THE MIDDLE EAST
7-10 October 2022, Athens, Greece
Please return to the Secretariat by/A retourner avant le/ Para enviar antes del
June 6, 2022
at/à/a info@wucwo.org
First name:
(Prénom/Nombre)
Last name:
(Nom/Apellido)
Date of birth:
(Date de naissance/Fecha de nacimiento)
Country of birth:
(Pays de naissance/País de nacimiento)
Date of arrival in Athens:
(Date d'arrivée à Athens/Fecha de llegada a Atenas) Time of arrival in Athens:
(Heure d'arrivée à Athens/Hora de llegada a Atenas)


Date of departure from Athens:
(Date de départ d'Athens/Fecha de salida de Atenas)
Time of departure from Athens:
(Heure de départ d'Athens/Hora de salida de Atenas)
Hotel Avra Rafina


• These prices include from lunch on the 7th to breakfast on the 10th. Please ask for rates for extra meals/nights.
• Ces prix comprennent du déjeuner du jour 7 au petit-déjeuner du jour 10. Veuillez demander les tarifs pour les repas/nuits supplémentaires.
• Estos precios incluyen desde el almuerzo del día 7 hasta el desayuno del día 10. Consultar tarifas para comidas/noches extras.


Single room €800.00*
(Chambre simple/Habitación individual)
Double room €600.00* (per person)
(Chambre double/Habitación doble)




Solidarity fee for Middle East Women €100.00
(Contribution de Solidarité poul les femmes du Moyen Orient/Cuota de Solidaridad para las Mujeres del medio Oriente)


Special needs:
(Besoins particuliers/Requerimientos especiales) Other amount (Autre/Otra) ________








*Payment method by June 6, 2022:


Draft in Euros to/Virements en Euros à/Transferencia en Euros a


UMOFC
BANCO BPM – Roma AG. 4 ITALIA
IBAN: IT54 V 05034 03204 0000 0000 9442
SWIFT: BAPPIT21A64
After having completed the payment please send a copy of the bank transfer receipt to the Secretariat./Une fois cela fait, s'il vous plaît envoyer le reçu du virement au Secrétariat./ Una vez realizado el pago, favor de enviar el comprobante de la transferencia al Secretariado.
THIS IS A SUGGESTED PROGRAM THAT YOU ARE FREE TO BOOK WITH THE GREEK TOURISM AGENCY
(WUCWO will not be responsible for booking any tour)
The offer is based on a 4 days / 3 nights program that will cover sightseeings that are among the most famous of the
Greek mainland and a 4 nights extension that will include an island break in the Aegean Sea catching the true
essence of the Greek spirit.
Please, for more information and to book the tour, contact Grecia Go (www.greciago.com), the Greek tourist
agency, by email: Pantelis Karavatas, Managing Director pantelis@greciago.com
SUGGESTED PROGRAM: Magnificent Greek Mainland
4 days / 3 nights – Pickup at the Avra Hotel in Rafina on Monday, October 10, at 8.15 am
All prices are intended per person in double room
Option A: Private Bus (minimum 15 people required)
Price per person 3* Hotel: 568€
Price per person 4* Hotel: 619€
Option B: Private Mini-Van (minimum 6 people required)
Price per person 3* Hotel: 731€
Price per person 4* Hotel: 783€
Option C: Private Car (capacity 2 people)
Price per person 3* Hotel: 731€
Price per person 4* Hotel: 783€
Option D:
One night stay in Athens on Monday and tour next day on Tuesday
Price per person 3* Hotel: 524€
Price per person 4* Hotel: 579€
Single Room Supplement for above options
3* hotel is 35.00€ / night
4* hotel is 44.00€ / night
** It is essential to know 20 days in advance the names of the participants and payment should be cleared 15 days
before the tour commences.
Program itinerary
1st Day: Leave by the coastal road, passing the Corinth Canal, where we will make a shortstop, and drive on the
Theatre of Epidavros, famous for its remarkable acoustics. We proceed to the town of Nafplio (short photo stop) and
drive on to Mycenae. We will visit the Archaeological Site and the Tomb of Agamemnon. Then depart for Olympia
through Central Peloponnese and the towns of Tripolis and Megalopolis. Overnight in Olympia (Dinner).
2nd Day: In the morning we will visit The Sanctuary of Olympian Zeus, The Ancient Stadium, and the Archaeological
Museum. Then drive on through the plains of Achaia until the magnificent bridge which is crossing the Corinthian
Bay. We pass by the picturesque towns of Nafpaktos and Itea and end up in Delphi. Overnight in Delphi (Dinner)
3rd Day: In the morning we visit the local Archaeological Site and the Museum. Depart for famous Kalambaka and
the astonishing complex of Meteora featuring gigantic rock formations and astonishing Monasteries. Overnight in
Kalambaka (Dinner)
4th Day: Visit Meteora, among striking scenery, perched on top of huge rocks that feel like standing in mid-air, stand
ageless Monasteries where you can witness exquisite specimens of Byzantine art. We return to Athens via Trikala,
Lamia, and Thermopylae (we make a short stop to see Leonida's Monument - Battle of 300). We arrive in Athens
early in the evening.
Note: In order for women to be able to visit the Monastery they need to wear a skirt and gentlemen long trousers.
Program Extension
1 Night in Athens
3 Nights Aegean Cruise (Mykonos Island, Kusadasi (Turkey), Patmos Island, Crete Island (Heraklion), Santorini Island)
Price per person in Double Room/Cabin: 539.00€
(Price calculated in 3* Hotel in Athens and Internal Cabin)
Price per person in Double Room/Cabin: 689.00€
(Price calculated in 4* Hotel in Athens and External Cabin)
INTERNATIONAL WOMEN'S DAY CELEBRATION 4 MARCH 2022
FALL MEETING OF THE UNITED STATES CONFERENCE OF CATHOLIC BISHOPS NOVEMBER 2021
The United States Conference of Catholic Bishops (USCCB) gathered for their 2021 Fall General Assembly in Baltimore from 15-18 November. This was the first in-person meeting of the full body of bishops since November 2019 and the joy of being able to meet in person was evident as they greeted each other and worked together throughout the week.
The public part of the meeting, following regional and committee meetings held by the bishops themselves, began with the Opening Mass held at Baltimore's historic Basilica of the National Shrine of the Assumption of the Blessed Virgin Mary, the first cathedral in the USA. Beautiful music enhanced the liturgy with Archbishop Gómez, President of the USCCB, serving as the principal celebrant and Archbishop Lori, Archbishop of Baltimore as the homilist. In the homily, we learned of the history of the provincial and plenary councils held in Baltimore that led to the formation of the body of US bishops that we know today as the United States Conference of Catholic Bishops. He noted that the early meetings, though they took place in times very different from our own, addressed issues with which we still struggle today: immigration, liturgical and catechetical matters, worker's rights, the need for Catholic education, and the relationship of faith and culture in America. He then drew the parallel from these historical debates to today's synodal Church, noting how the need to pray, listen, and dialogue are required to implement collaborative and inspired decisions. Their path must remain rooted in the received faith of the Church and prayer. A synodal Church does not take the way of popularity or of least resistance and must not avoid sensitive or painful issues, ensuring that the most vulnerable are not left behind when issues are selected for consideration. He exhorted the bishops to move forward in a synodal fashion by helping and consoling one another and to listen to the wisdom and love of the Holy Spirit. He reminded them that they needed to proceed together in selflessness and humility and that by doing so, they can overcome the noisy ideologies of left and right through their united love for the Lord and for His Church. It was inspiring to view the main floor of the basilica filled with our US cardinals and bishops clad in white with their scarlet and amaranth zuchettos and many tender acts of kindness as older shepherds were assisted in vesting by their younger or more able brothers.
The next morning, Tuesday November 16, after Mass, found everyone assembled in the meeting room where a beautiful slide of Our Lady of Guadeloupe and the title of the meeting was projected onto a large screen centered on the blue-highlighted stage curtain behind the dais where the Chair, the President of the Assembly, Archbishop Jose Gómez, the Vice President, Archbishop Allen Vigneron, and the interim General Secretary, Rev. Michael Fuller were seated. The official observers were seated stage right perpendicular to the assembly of bishops who were seated classroom style facing the stage. I was happy to be joined by Patricia Voorhes, President of the National Council of Catholic Women and Sherry Nilles, National Regent of the Catholic Daughters of the Americas.
After an Opening Prayer, the Chair called the Assembly to order at 11am. He then proceeded to introduce the bishops appointed since their last meeting and recognized those bishops who have newly reached senior status. The Assembly then prayed by name for those bishops who have died since the last gathering. The bishops next heard a message from them to the Holy Father and signaled their approval by applause. The Chair then introduced the Apostolic Nuncio to the USA, Archbishop Christophe Pierre, all guests, official observers, and the media. This was followed by necessary meeting procedures: Approval of the Agenda that was accepted by voice vote; introduction of tellers who would be needed for written ballot voting; introduction of the parliamentarian; approval of the minutes of the last meeting (June 16-18, 2021 conducted via Zoom) approved by voice vote; and direction to the bound information reports everyone had recevied.
We were then treated to a beautiful address given by the Apostolic Nuncio to the USA, Archbishop Christophe Pierre, who spoke about the importance of synodality in facing the challenges confronting the nation and the Church in openness to the Holy Spirit. While remaining faithful to the living Tradition of the Church, synodality, which means walking together, must bring about true reform with concrete gestures involving the participation of the whole Church. The conversion, especially in our intellect, that the synodal process brings about leaves us in a better place. He pointed out that synodality helps provide answers to the challenges and to the confrontation that is threatening to divide the US and whose echoes are felt also in the Church. Speaking about the pro-life challenge, the Nuncio said "the Church must be unapologetically pro-life and must defend innocent human life and all vulnerable persons." In this regard, the synodal approach would try to understand better why people seek to end pregnancies and make choices against life and form a consensus with concrete strategies to build the culture of life and the civilization of love. Archbishop Pierre commended the initiative Walking with Moms in Need which seeks to walk in the shoes of local expectant mothers and their children in order to meet their needs, stressing this is a synodal approach. The National Council of Catholic Women has adopted and implemented the Walking with Moms in Need program from the USCCB through their Service Commission since it was initiated by the USCCB. He next addressed reality vs. ideas saying, "Realities are more important than ideas," and he stressed the practical Eucharistic experience of synodality. "We can have all the theological ideas about the Eucharist – and, of course, we need this – but none of these ideas compare with the reality of the Eucharistic Mystery which needs to be discovered and rediscovered through the practical experience of the Church living in communion, particularly in this time of pandemic." He said, "We can become so concentrated upon the sacrality of forms of the liturgy that we miss the true encounter with His Real Presence." He next said the Church needs to involve everyone in concrete action that mediates the presence of Christ in the human reality of our divided hurting world. According to the Archbishop, "The way this concrete action is actuated is through synodality." Synodality, he continued, is a way of living the faith in a permanent way in dioceses, parishes, the families, and in the peripheries, involving all Church members in the mission of evangelization. Pope Francis described synodality as "nothing other than the 'journeying together' of God's flock along the paths of history towards the encounter with Christ the Lord," which God expects of the Church of the third millennium. He then stated that synodality must be God-driven: Dialogue must have charity, conversion, truth, and salvation as the four dimensions of dialogue. "Our dialogue and our listening," he said, "must involve, not only talking among ourselves – bishops, clergy, religious, and laity – but also listening to God – listening to what the Spirit has to say." The Church in the US needs this attentive listening now more than ever if she is to overcome the polarization afflicting the country. After being God-driven, synodality must be mission-driven. The synodal process should lead to missionary discipleship, whose model is the Blessed Virgin Mary. The Holy Spirit, who is at the core of this ecclesial "walking together," overshadowed her. Mary and the Spirit "journey together" from the Annunciation through Pentecost. It is about humbly listening, to each other and to the Spirit, and being open to what the Spirit has in store for us. "Listening to one another and to the Spirit and walking with our brothers and sisters," Archbishop Pierre said, "we will emerge from the present crises together as the Church Christ has called us to be!" This beautiful and comprehensive address, touching on all the points the Assembly would address in this meeing and folding in the synodal process, was met with great applause.
We next enjoyed a lovely address from the President of the Conference, Archbishop Gómez who said he saw many "challenging signs" as the country emerges from the pandemic – but also "signs of hope." He called on American bishops to share "the beautiful story of Christ's love for us, His dying and rising from the dead for us, and the hope He brings to our lives." People are searching for God, and are "willing to let themselves be found by God," adding, "I believe they are ready to listen once again to the Word of truth and the Word of life. I think there are also people in our society – those who grew up without religion – who are ready to hear the Word for the first time." "The Church exists to evangelize," said Archbishop Gómez. "There is no other reason for the Church. To be a Christian is to be a missionary disciple." That, he said, "is why the initiatives we have taken as a Conference of Bishops are absolutely vital." He pointed in particular to the Bishops' document on the Eucharistic mystery and their pastoral plan for Eucharistic revival, both of which were later voted on by the Bishops during this fall gathering. Archbishop Gómez insisted that people are not saved through plans and programs, but only through a personal encounter with Jesus Christ. He said the Eucharistic revival is a missionary project, aimed precisely at "drawing the faithful deeper into the mystery" of the Eucharist, to awaken a sense of what Pope John Paul II called "Eucharistic amazement." "Our beautiful task," Archbishop Gómez told his fellow Bishops in conclusion, "is to continue to tell the Catholic story, to reveal Jesus to our people – to place their hands in His hand so they can walk by His light and follow Him to eternity, to the love that never ends." His uplifiting address was met with a standing ovation.
Following the report of the National Advisory Committee, a group that suggests topics for consideration to the Bishops Conference, the election for a General Secretary was held. Rev. Michael Fuller was elected to this important position.
Following lunch, the afternoon session began with Mid-Afternoon Prayer. What followed was the introduction of committee items that would be voted upon the following day. After these presentations, elections were held for the following positions: Treasurer-Elect with Bishop James F. Ceccchio selected and then for the chairmen of various committees: Clergy, Consecrated Life, and Vocations -Bishop Earl Boyea; Divine Worship -Bishop Steven Lopes; Domestic Justice and Human Development – Archeparch Borys Gudziak; Laity, Marriage, Family Life and Youth -Bishop Robert Barron; and Migration -Bishop Mark Seitz. The next election was for three bishops to sit on the Board of Catholic Relief Services with Archbishop Timothy Broglio, Bishop Donald Hying, and Bishop Oscar Solis being selected.
Bishop Listecki then introduced a video from Archbishop Charles Scicluna of Malta who spoke about the revisions made to Book VI of the Code of Canon Law on Penal Sanctions in the Church. This first part of the presentation detailed the reasons for the changes made and where those changes could be found. Part 2 of the video was to be presented the next day.
An amazing end of the day followed with the entrance of a procession of members of Orthodox bishops of the United States. Archbishop Elpidophoros, Chairman of the Assembly of Canonical Orthodox Bishops of the United States spoke beautifully of the overtures to dialogue between the Roman Catholic Church and the Orthodox Churches. "Today, I am convinced, as I present myself in front of my brother hierarchs, that this dialogue of love, initiated by Pope Paul VI and Ecumenical Patriarch Athenagoras in 1964 in Jerusalem, continues with a particular density in this blessed country," said Archbishop Elphidoros. He quoted Patriarch Bartholomew's recent address to the Ecumenical Reception at the National Council of Churches, where the Patriarch stated that a "dialogue of love" between the faiths was the future for the two churches, and that the 21st century "should become the century of the restoration of unity." This historic address was met with a standing and prolonged ovation. It provided a beautiful end to the first day of public participation in this fall meeting of the USCCB Assembly.
The second day started after Mass with Morning Prayer. The day then proceeded with debate and vote on items presented by committees the day prior:
Committee for Budget and Finance: Through the USCCB's Socially Responsible Investment Guidelines, the Conference exercises faithful, competent, and socially responsible stewardship in how it manages its financial resources. The updated guidelines were presented to the body of bishops and this action item was approved as was the budget for 2022. Presenting the proposed budget, they agreed that they were optimistic that the worst of the pandemic may be behind us but that they wished to remain cautious. They also resolved that they would evaluate investments in fossil fuels in an ongoing manner and not wait three years for the next specified evaluation.
Committee on the Protection of Children and Young People asked that they be authorized to begin a review of the Charter for the Protection of Children and Young Adults in advance of the June 2025 mandated review date. The proposal was approved and they noted it should also include wording for protection of vulnerable adults.
Committee on Canonical Affairs and Church Governance: The Latin Church members voted to approve the revised National Statutes for the Catechumenate for use in the dioceses of the U.S. It was followed with a vote to approve the Estatutos Nacionales para el Catecumenado for use in the dioceses of the U.S. In addition, the Conference's longstanding commitment to promote financial accountability in the pastoral governance of the diocesan bishop was affirmed through the Resolution on Diocesan Financial Reporting, which encourages the adoption of a voluntary financial reporting system by the dioceses as a means of offering further evidence of their compliance with canon law (Church law) pertaining to fiscal administration. Since its original passage in 2000, the resolution has been renewed by the bishops approximately every five years.
Cause for Beatification and Canonization: By a voice vote, the bishops affirmed their support for the advancement of the causes of beatification and canonization for three lay individuals at the diocesan level: Charlene Marie Richards who died at the age of 12 and offered her sufferings for others; Auguste Robert Pelafigue who provided great service to the poor and was instumental in promoting devotion to the Sacred Heart; and Joseph Dutton, who worked for 44 years with lepers in Hawaii and who started a home for boys, causing him to he a foster father for hundreds of boys in Hawaii. The bishops also noted their continuing prayer and work for the six African-American proposed saints. They suggested a prayerful petition be carried out in dioceses this month for their cause as this is the month of Black Catholic History.
Committee on Divine Worship: Each year, the USCCB publishes the Liturgical Calendar for the Dioceses of the United States of America which lists each day's celebration, rank, liturgical color, citations for the Lectionary for Mass, and Psalter cycle for the Liturgy of the Hours. The bishops approved the proposal to inscribe Saint Teresa of Calcutta as an optional memorial on September 5 with the explanation that when memorials are first proposed they are normally made optional rather than obligatory and that the wording of the Prayer was supplied by her Sisters. This optional memorial must be confirmed by the Congregation for Divine Worship and the Discipline of the Sacraments. Next, The Latin Church members of the Conference voted to approve the translation by the International Commission on English in the Liturgy (ICEL) of Holy Communion and Worship of the Eucharistic Mystery Outside Mass for use in the dioceses of the United States. Next, The Latin Church members of the Conference approved the revised English edition of the Order of the Christian Initiation of Adults. This was followed by approval of a revised Spanish edition, the Ritual para la Iniciación cristiana de adultos. These three documents would also need confirmation by the Congregation for Divine Worship and the Discipline of the Sacraments.
Committee on Doctrine: The bishops discussed and approved a statement, The Mystery of the Eucharist in the Life of the Church, that is meant to be a reflection on the transformative beauty of the Eucharist that invites each of us into a deeper relationship with Christ.
Committee on Evangelization and Catechesis: The bishops received an update on the Eucharistic revival initiative and voted on moving forward with a National Eucharistic Congress in the summer of 2024 in Indianapolis, Indiana. The bishops approved the national event that will be held from July 17-21, 2024. A timeline leading up to this event was presented for each year. The Mission is to renew the Church by enkindling a living relationship with the Lord Jesus Christ in the Holy Eucharist and the Vision is A movement of Catholics across the United States, healed, converted, formed, and unified by an enounter with Jesus in the Eucharist -and sent out in mission "for the life of the world."
The Session after Lunch began with Mid-Afternoon Prayer. We then watched Part II of the video of Archbishop Charles Scicluna of Malta who continued with the presentation of the revisions to Book VI of the Code of Canon Law. This segment concentrated on listing the violations and penalties for abuse of youth and the vulnerable and misuse of diocesan funds.
This was followed by a presentation by the Committee on Cultural Diversity in the Church. Using a video with testimony from persons across the US representing many different cultures, the presentation led into the announcement of a gathering to be held of young adults June 23-26, 2022 in Chicago to celebrate the diversity of our US Church and the unity we experience through our common faith. Spurred by the 2018 Synod on Youth and fed by virtual meetings held to provide space for dialogue, the national gathering is envisioned as a wonderful gathering for young persons of diverse cultural backgrounds to come together joyously as Church.
Committee on Laity, Marriage, Family Life and Youth: The introduction of a pastoral framework for Marriage and Family Life in the US, Called to the Joy of Love. This document provides guidelines for pastoral care with a framework of four pillars: Prayer, Formation, Accompaniment, and Advocacy with the aim to Educate, Encourage, and Engage. It is available in English and Spanish in hardcopy and is also on the USCCB website.
Following a break with ice cream (!) we heard the following presentations:
Committee on Pro-Life Activities: Presented on the Walking with Moms in Need initiative. Though designed to be administered through parishes and dioceses, it should be noted that this program has been promoted by the National Council of Catholic Women since its introduction under the NCCW Service Commission which made us very proud as we listened to the presentation.
2021-2023 Synod of Bishops: We watched a video from Cardinal Grech, General Secretary of the Synod of Bishops, that explored the definition of synodality and the need for a synod on this process that aims for communion, participation, and mission. The upcoming 16th Ordinary General Assembly will work with the results of listening sessions held throughout the world at the parish level as well as from those who no longer attend church. It is necessary to cast a wide net: those not coming to church, the marginalized, those who have left the Church -an ecumenical reach is needed. Listen to the fears, affirm hopes, encourage local participation. Follow the model of Jesus Christ: Attentiveness, compassion, tenderness. See how to engage with others. It is essential to find out what everyone hopes for the Church. It calls for listening, praying, and discerning together. Encounter, discernment, and listening is the synodal path. There are three phases: Diocesan (with reports due in June 2022), continental, and international. Set up listening sessions in locations other than churches: homes, businesses, neighborhoods, have youth invite their unchurched friends, etc.
Catholic Campaign for Human Development: Started in 1970, Bishop O'Connell indicated that the CCHD has disbursed grants totaling 440 Million dollars over the last 50 years. He noted that the Church's moral teachings are truly a gift to the world. A video followed showing the work and gratitude of some recipients. It is truly a grassroots Catholic work.
Catholic Relief Services: Provides hope globally. The goal is that 3 million youth will be provided life skills by 2030 around the world. 18,000 families have been helped and have become resilient with the provision of CRS tools in the past year. High School clubs have started to engage youth in this work and to provide a means of evangelizing our youth. Some examples of work accomplished in the past year: CRS has provided agricultural and health support in Afghanistan; in Ethopia there are 6.3 million persons to feed; in the Sahel, programs to stimulate peace; In Guatemala and in the Cameroon, HIV/AIDS work; in El Salvador they are working on eradicating malaria. They work on providing food, water and on vaccine equity. They have 6700 employees in 1400 countries and provided 5.1 billion dollars in assistance. Their current slogan is Faith Knows No Bounds!
Catholic Charities USA: Sister Donna Markham, CEO, noted that Cathlic Charities is number two in the provision of comprehensive social services in the USA, second only the the federal government. In the past year, 615,000 received shelter; 337,000 migrants and refugees were re-settled; 12 million were fed; 2 million received COVID-related assistance; 18,000 families were helped; 40,000 found employment; and 500,000 found mental health and family counseling. There is an official estimate of 580,00 homeless in the US and it is likely double that. Unused church-owned buildings could be converted to help with this.
Catholic Legal Immigration Network (CLINIC): There are 441 organizations linked via CLINIC resulting in thousands receiving legal assistance.
Committee on Migration: The document produced, Immigration Reform and the Church's Voice, notes the need for Advocacy (facts are provided in the document to assist with advocacy), Prayer, and Accompaniement (I'm here for you).
The day adjourned at 6:40PM and the public sessions were then ended. Observers were invited to attend Mass the following morning as they had every morning of the meeting and it was beautiful.
As always, it was an honor to attend and it should be noted that these sessions were well-organized, seamless in presentation, and uplifiting in the synodal way that the bishops worked together, listening, honoring differing views, and then reaching consensus. It is always quite an experience to look out upon the Assembly of more than 230 bishops gathered together in prayer and work on behalf of the Catholic Church in our USA. The breaks, lunches, and enounters in hallways provided opportunities for conversation with the bishops and it was quite lovely that many of our bishops and cardinals actually sought us out to ask our opinion and observations on the proceedings. May God continue to bless our bishops and our Catholic Church in the United States of America.
Maribeth Stewart Blogoslawski
Vice President General, World Union of Catholic Women's Organisations
WUCWO SPONSORED EVENT OCTOBER 25, 2021
WUCWO and the Federation of Catholic Family Associations in Europe held an event to celebrate the Amoris Laetitia Family Year on October 25, 2021. Held in Strasbourg, it was called Ecology of the Family and Integral Development. The video of the webinar can be seen at
https://youtu.be/kT0HVaFiHiQ
MESSAGE FROM THE SECRETARIAT SENT 04 OCTOBER 2021
It is a pleasure to greet you and to update you on issues that concern all our member organisations.
 MESSAGE OF POPE FRANCIS FOR WUCWO: On the occasion of the celebration of the 110th anniversary of the founding of WUCWO, whose celebration has been extended to 2021 because of the pandemic, Pope Francis has sent us his message and blessing through Cardinal Parolin, Secretary of State (see attached).
 CREATION OF THE WORLD OBSERVATORY ON WOMEN: With the impulse of the Dicastery for Promoting Integral Human Development, WUCWO has created, ad experimentum for two years, an observatory that has started in the Latin American and Caribbean region, in alliance with CELAM (Latin American Bishops' Conference). It aims to give women, especially the most vulnerable, the opportunity to express themselves and to be heard, so that the results of this research can be used for evangelisation and the construction of a fraternal and inclusive society.
 POSTPONEMENT OF THE ASSISI GENERAL ASSEMBLY AND THE MEETING WITH WOMEN FROM THE MIDDLE EAST IN ATHENS: In view of the uncertain health situation and the difficulties in moving from one country to another because of the pandemic, the Board, due to force majeure, has had to postpone the Assisi General Assembly to 2023 and the Meeting with Women from the Middle East in Athens to 2022.
 NEW AFFILIATIONS TO WUCWO: There are three new organisations.
 Asociación de Damas Católicas (Guatemala). This is a private association of the faithful dedicated primarily to the promotion of women and the family, to foster knowledge of the living Christ in order to create a more intimate union between life and faith.
 Collectif Alpha Ujuvi (Democratic Republic of Congo). It is an NGO organised by a nun of the Ursuline Sisters. The president of its Board is the bishop. It works in three areas: education, protection of vulnerable people and recovery and community development, offering alternatives that stimulate the development of women.
 Catholic Women 's League (Hong Kong). This organisation was a member of WUCWO and wished to rejoin our organisation. It holds fundraising events to promote education, scholarships and mentoring for young students, and provides assistance to families in extreme hardship and the elderly. Prayer and fraternity are part of their daily life.
The first two were accepted by the Board as full member organisations, whereas the third as an associate member. All three will have to be presented to the next Assembly for ratification.
I invite you to thank the Lord, through Mary, our Mother, for so many gifts received and to pray for the people of our staff who work so professionally and painstakingly to carry forward the Secretariat, and especially for our Secretary General, Lavinia Rocchi Carrera, who is on maternity leave because she is expecting to give birth to a baby girl in a few days.
MESSAGE FROM POPE FRANCIS ON THE 110TH ANNIVERSARY OF WUCWO
:
His Holiness Francis cordially greets the members of the World Union of Catholic Women's Organisations on the 110th anniversary of the foundation of this institution, as well as all those who, together with them, join in thanksgiving for the gifts received from the Lord in these years.
The Pope also exhorts you so that the example and intercession of the Blessed Virgin Mary, model of a woman of faith, may keep alive in you the spirit which, from the very vocation of each association, calls you to imitate her in your generous acceptance of the Word of God and your selfless dedication to the service of the Church, always growing in the virtues of faith, hope and charity which form us as disciples of Christ.
With these sentiments, the Supreme Pontiff imparts the implored Apostolic Blessing, as a pledge of copious heavenly blessings.
Vatican, 12 July 2021
Cardinal Pietro Parolin Secretary of State
REPORT FROM THE WUCWO REPRESENTATIVE TO THE 2021 NCCW CONVENTION
In the two years since we last met, WUCWO has been busy, even after COVID-19 called a halt to in-person meetings and events. WUCWO pivoted swiftly to Zoom meetings available with translation and continued with our work. The following is a very brief summary of what WUCWO and I, as your representative to the WUCWO Board, have been up to!
MEETINGS:
In January 2019, a private meeting was held with WUCWO's principals and His Holiness, Pope Francis, in his private library. Of course, this was an extraordinary experience that will be treasured. He recognized that WUCWO represents the Catholic women of the world and from that meeting, WUCWO has been consulted and present for many of the movements and events sponsored by the different Dicasteries and Pontifical Councils at the Vatican. From that meeting, WUCWO also received and accepted an offer of renting spacious accommodation for our Secretariat in a Vatican-owned complex that is at less rent than we were paying previously and is secure by contract for 12 years.
Attended Zoom meetings with the Undersecretary for the Dicastery of Laity, Life and Family; the Dicastery for Promoting Human Integral Development; the Pontifical Council for Interreligious Dialogue; and the Pontifical Council for the New Evangelization.
Helped plan and attended the WUCWO EC meetings and the WUCWO Board and Formation in-person and later Zoom meetings. It was determined that the WUCWO Board will continue to meet once a year in person but have more frequent Zoom meetings in between.
Attended the UN's Commission on the Status of Women meetings virtually; presented at two sessions and submitted a complete report to the WUCWO Secretariat. Continued to attend (virtually after COVID-19) other pertinent sessions at the UN in New York and continued to coordinate the International Working Group for WUCWO.
Participated in WUCWO's collaboration in the launch of the 7-year plan wanted by Pope Francis to achieve the 7 Sustainable Goals of Laudato Si'. Consequently, I accepted an invitation from the Dicastery for Promotion of Integral Human Development to co-chair of the Organization and Groups section based at the Vatican for Pope Francis' Laudato Si' Action Platform. This will be a 7-year project and our section is proceeding well with Zoom sessions, meeting our deadline goals for actions and documents.
I accepted a request from the Pontifical Council for Interreligious Dialogue to be a panelist for a presentation viewed by over 1400 at the initial broadcast on Justice and Issues of Small Island Developing States and Territories.
I received and accepted an invitation from Cardinal Tagle to a meeting of the Congregation for the Evangelization of Peoples that will be in 2022.
Attended the worldwide Zoom meeting to celebrate WUCWO's 110th Anniversary and Mass. The event also celebrated the contributions of Father Whelan, WUCWO Ecclesiastical Assistant for the past 9 years, who is leaving as a new position he has been given at the Gregorian will preclude his ability to continue as WUCWO's EA. I wrote the farewell from the WUCWO NA Region and incorporated Irish Gaelic into the talk as he is from Ireland. He responded in Irish. A beautiful and emotional celebration.
Represented WUCWO at the National Prayer Vigil for Life in DC.
Participated in the International Day of Prayer and the Awareness of Human Trafficking events as WUCWO was asked to co-chair both events with the Pontifical Council for Interreligious Dialogue.
Attended the WUCWO webinar, Women in the Church: The Challenge of Synodality that introduced the first woman Undersecretary of the Synod of Bishops and the first woman with a vote at that Synod.
We are working on the WUCWO meeting with the Catholic women of the Middle East that will be held in Athens, Greece and our General Assembly that will be held in Assisi, Italy.
Of course, much time was spent on preparing our WUCWO North America Region Conference that was held on Tuesday, the day prior to the start of this Convention. I enjoyed the prep and the event and hope that those present had a grand day.
WRITING:
Wrote the prayer for this year's focus for WUCWO which is on Resolution #3: Elimination of discrimination and Violence against women. Wrote the WUCWO Prayer Service for 2021 that all member organizations were asked to use for their celebration of WUCWO Day 2021. Both of these are found on the WUCWO website (www.wucwo.org).
Provided information for a training program for new WUCWO Board members
Wrote the minutes for all WUCWO Board meetings and provided proofreading for the English version of the WUCWO magazine, Women's Voice.
Wrote the Quadrennial Report for the UN from WUCWO and the WUCWO report for the UN Department of Global Communications.
Sent updates to WUCWO member organizations in North America and relayed requests from WUCWO for information to those organizations.
FINANCIAL:
Continue to take care of banking for WUCWO in the US; completed the forms required for charitable status with the bank used in the US; and made transfers from the US to WUCWO's banks in Paris and Rome.
Continue to serve on the WUCWO Endowment Fund Board. This Endowment Fund was started by Canada, abides strictly by Canadian law, and holds contributions from other countries as well.
Obtained incorporation and 501(c)(3) status in the US for WUCWO
MISCELLANEOUS:
WUCWO 110th ANNIVERSARY CONTINUES
Due to the fact that COVID-19 curtailed or ended celebrations of WUCWO's 110th Anniversary around the world in 2020, the WUCWO Board voted to continue the celebration through 2021. A special Anniversary Committee has been formed.
New Publication From WUCWO:
With the support of Prof. Linda Ghisoni, Undersecretary of the Dicastery for Laity, Family, and Life, WUCWO published a booklet on the prevention of abuse in families and schools. The booklet is Women as Agents to Safeguard and Prevent Child Abuse in Families and Schools. To date, it has been translated from English into French, Spanish, Italian, Korean, and Urdu.
WUCWO is supporting beatification effort for a Former WUCWO President General:
Pilar Bellosillo was a woman unconditionally devoted to the service of God in the Church. She worked actively for ecumenism and all that amounted to progress in dialogue and reconciliation. She was instrumental in writing several sections of Gaudium et Spes, and served as one of the few women with voice at Vatican II. She was WUCWO President General from 1961 to 1974 and WUCWO has now joined other organizations and dioceses in promoting her cause for beatification.
At the WUCWO June 2021 Board meeting, we approved the creation of the Worldwide Observatory for Women (or WOW) that will address women's issues from a Catholic viewpoint using social anthropological methods and that will produce reports translated into several languages that will be disseminated widely.
Increased use of Social Media platforms such as Facebook has promoted and made known WUCWO efforts. A new communication group for WUCWO has been formed using WhatsApp and is very active indeed.
Two training seminars were held focused on the Elimination of Violence Against Women: One in Africa and the other in Latin America.
There has been more, of course, but these highlights should serve to inform you of the excellent ever-growing and far-reaching work that has been accomplished by WUCWO.
As always, if you have any ideas, comments, or questions regarding WUCWO and our work, please do not hesitate to contact me.
Serving as our WUCWO Rep from the US and as the Vice President General of WUCWO, Vice President for North America, and International Rep to the UN for WUCWO in NY continues to be an extraordinary experience for which I am ever grateful. Thank you for this wonderful opportunity and I hope you find that my service in this position meets your expectations.
May Mary Queen of Peace, Patroness of WUCWO, ask her Divine Son to bless you, your families, and organizations with wisdom, joy, and peace.
Thank you.
Madame President, this concludes my report.
Maribeth Stewart Blogoslawski
REPORT FROM THE VICE PRESIDENT GENERAL AND THE VICE PRESIDENT NORTH AMERICA FOR THE WUCWO BOARD MEETING SEPTEMBER 2021
Planned and held the WUCWO North America Region Conference that went very well though no one from Canada and Maria Lia could not attend due to pandemic travel restrictions. Video messages from Maria Lia, CWL Canada, and the Canadian Board member, Marusia, were well received. The President of the NCCW USA, Jean Kelly, and the Supreme Lady of the Knights of Peter Claver Ladies Auxiliary, Micaela Leblanc, delivered in-person messages. All four of the WUCWO Resolutions were discussed and the 110th birthday of WUCWO was celebrated.
The Friends of NCCW for WUCWO voted to combine their WUCWO Endowment Fund with the WUCWO Endowment Fund held in Canada. Awaiting instructions from Canada on the best way to do this.
Attended the Convention of the National Council of Catholic Women USA as their Immediate Past President and the USA WUCWO representative. Reported to NCCW and to the Friends of NCCW for WUCWO about the activities of WUCWO. The NCCW installed their new President, Patricia Voorhes.
The CWL Canada held their national convention virtually and installed their new president, Fran Lucas.
WUCWO BOARD MEETING OF SEPTEMBER 2021
A two-day Board meeting was held via Zoom to learn updates from the Standing Committees (Finance, International, Statutes, and Communications) and Working Groups (Four Groups each addressing one of the WUCWO Resolutions).
In addition, the Board voted to postpone the Meeting with the Women of the Middle East to 2022 (from November 2021) and the next General Assembly to be held in Assisi, Italy to 2023 due to COVID travel restrictions.
Another notable item discussed was a new Decree from the Dicastery for Laity, Family, and Life which is the Dicastery (Vatican office) that oversees WUCWO. The Decree states that: 1) All major decisions made by an association that falls under the Dicastery's oversight must be made by the members of the association. This does not change anything for WUCWO since the Board is the governing body and all changes to the WUCWO Statutes are adopted at General Assemblies following voting by member organizations' delegates. 2) The term of office for a Moderator (which for WUCWO is the President General) cannot exceed ten years and there is no possibility of holding this office again. The WUCWO Statutes will need to be modified to accommodate this change. 3) The term of a member of the governing body (which for WUCWO is the Board) shall be 5 years with the possibility of renewing once for a maximum continuous time on the Board being 10 years. It will be possible for a Board member to serve again after a one term break in service. The WUCWO Statutes will need to be amended for this as currently, a Board member serves a 4-year term with the possibility of renewing twice for a maximum of 12 years. The Decree went into effect on 11 September 2021 and associations have 24 months from then to implement any necessary changes. These changes will not be drastic for WUCWO but were put into place because some other associations just don't have any provision or inclination to change their president or governing bodies. The 24-month implementation period will allow for changes to be made to the Statutes at the next General Assembly slated for 2023 so there will not be any issues for WUCWO regarding this new Decree.
WUCWO/ HOLY SEE MEETINGS SEPTEMBER 2021
The Embassy of France to the Holy See and the World Union of Catholic Women's Organisations (WUCWO) held, in line with the Amoris Laetitia Family Year, an international conference by Zoom: The new pastoral style of Amoris Laetitia: welcoming, accompanying, discerning and integrating on 15 September 2021. The conference featured Oranne de Mautort, theologian and co-author of the book Familles, belles et fragiles! and Dr Gabriella Gambino, Undersecretary of the Dicastery for the Laity, Family and Life.
A by-invitation only Zoom meeting was held on 16 September with the Dicastery of Laity, Family, and Life to discuss the philosophy behind the new Decree described above. I attended (though it began at 3am my time!) and enjoyed the discussions that were led off by His Holiness, Pope Francis, and that featured talks from theologians and from Dr. Linda Ghisoni, Undersecretary for Laity from the Dicastery. Linda had provided a lovely letter of greetings for our WUCWO NA Region Conference.
A meeting of the Vatican's Working Group for Organizations for Pope Francis' Laudato Si' Action Platform was held via Zoom on 14 September to discuss upcoming assignments and work to be done. As a co-chair of this Group, I was happy to attend.
Wishing all who read this the blessings of joy and peace though the intercession of Mary, Queen of Peace,
Maribeth Stewart Blogoslawski
UNITED NATIONS -SEPTEMBER 2021:
In- person attendance at the UN in NY is still prohibited due to COVID restrictions at least through the end of October 2021.
Accordingly, I have attended one session since our NCCW Convention on 7 September via Zoom at the invitation of the Office of the Permanent Observer of the Holy See to the UN. It was the High-Level Forum on the Culture of Peace on the theme "Transformative Role of The Culture of Peace: Promoting Resilience and Inclusion in Post-Covid Recovery." The statement made by H. E. Archbishop Gabriele Caccia, Apostolic Nuncio and Permanent Observer of the Holy See to the United Nations was quite comprehensive and powerful. In essence, he stated:
COVID-19 has deeply impacted humanity on an individual and societal level. Families have lost loved ones, lock-downs have impoverished human relationships and interactions, disrupted economies, and inequalities have been further exposed and exacerbated. Now is the time to rebuild with an approach steered by peace and fraternity and with more resilience and inclusion than before. He went on to discuss this in terms of three areas:
Resilience and inclusion in human relationships: While we recover economically from COVID-19, we must also recover socially by rekindling and mending human relationships. As Pope Francis underlined, in his Encyclical Letter Fratelli Tutti, we need a recovery of kindness in everyday life.
Resilience and inclusion of the poor and vulnerable: The COVID-19 pandemic blatantly exposed the plight of the poor and those on the margins of our society; true recovery requires putting them first. Our inclusivity and, to a certain extent, our resilience can be measured by how our societies treat the poorest and those in vulnerable situations, especially in times of crisis. Only in respecting their dignity and valuing their contribution can they be truly integrated into society.
Resilience and inclusion of the environment: Finally, we must also reconsider our culture of consumerism and its impact on our common home. Our economic systems, production patterns, energy use, and how we live our daily lives can only be resilient if they are sustainable. The negative impacts of excessive consumption and most notably climate change, disproportionately affect the poor and those in vulnerable situations.
-Maribeth